"For God so loved the world. . ."
John 3:16
Christmas Season, 2017
Dear Friend in Christ,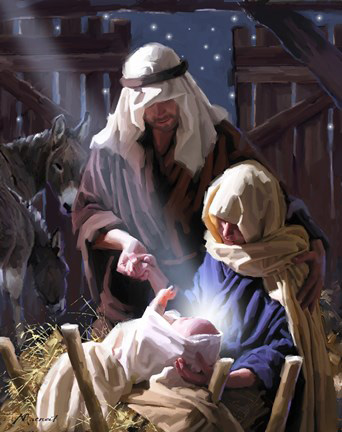 Greetings in this Holy Season.

       A most special Child was born into this world. He came that we might receive God's Infinite Love. A gift from heaven to be received freely and personally by each human heart.
       St. John Paul II called for a New Evangelization to take place in the Church. It's a tragic reality that more people (especially the young) are leaving, rather than joining the Catholic Church.
       Recently, I was a guest lecturer at a notable Christian University that trains students for professional ministry. I was invited to address the faculty and student body about the Catholic Charismatic Renewal. A young woman approached me after the conclusion. Amazed and somewhat shocked she said, "Why didn't anyone tell me about this when I was a Catholic!" (I am hoping she will attend the next SCRC Convention.)
       Evangelization is one major part of this ministry. Many people return to God and the Church through our outreaches each year. The necessary funding comes from people like you.
       Please be an accessory to God's healing and saving graces with your Christmas donation to SCRC's vital mission. If you're not already, please consider partnering with us in this work of God by becoming a monthly donor (please see below).
       May our Almighty Heavenly Father bless you abundantly for your prayers and support. Your prayer intentions will be remembered in a special Mass on January 9, 2018.
       In God's Infinite Love,


Dominic Berardino
President, SCRC
P.S. We look forward to seeing you at next summer's SCRC Catholic Renewal Convention, "The Spirit Gives Life" held on Labor Day Weekend, Aug. 31-Sept. 2, 2018 at the Anaheim Convention Center!
For a financial gift of $75 or more, you will receive by mail a CD of the past Convention talk,"Mary, the Star of Evangelization" by Deacon Alex Jones (through 1/16/18).
New recurring donors receive a FREE download talk of your choice (through 1/16/18). SCRC Online Store coupon code will be provided.

One Time Donation:



Monthly and Quarterly
Donations:



Click one of the following to start:

Please Also Consider Shopping Amazon.com Through This Link.
If you use this link before buying something from Amazon.com, SCRC will receive a portion of anything you buy there at no cost to you.