View SCRC News and Events | All Charismatic Events | Reserve or Register for an Event
Spring Conference: Fresh Anointing of the Spirit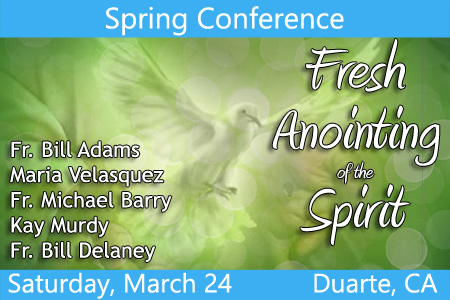 Sat, Mar 24 2018
10:00 am to 5:30 pm
The Spring Conference Featuring Five Speakers and Palm Sunday Vigil Mass
This Spring Conference is being presented by the Carmelite Sisters of the Most Sacred Heart of Los Angeles

Speakers

Fr. Bill Adams, CSsR:
"Following Jesus Today"

Maria Velasquez:
"Experiencing God the Father's Love"

Fr. Michael Barry, SSCC:
Celebrant: Palm Sunday Vigil Mass and Healing Service

Kay Murdy:
"Healing and Wholeness"

Fr. Bill Delaney, SJ:
"Growing in the Life of the Spirit" with Prayer for Baptism in the Holy Spirit
Discounted Registration Through March 16th: $22
Thereafter: $27

All individuals whose pre-registrations are received by March 16, 2018 will be sent a schedule, tickets, detailed directions, parking info and map of local restaurants.
DIRECTIONS
-Take the 210 Fwy, Exit Buena Vista Street
-Go North toward the foothills. (a few blocks)
-Santa Teresita Hospital is on left side of street
-Madonna Hall is on the Buena Vista side of the hospital grounds. Free parking.