Saint of the Day | Testimonies | Watch Videos and Hear Talks | Renewal Articles
Experience Catholic Charismatic Renewal
For almost four decades, hundreds of thousands of people have experienced Catholic Charismatic Renewal through the SCRC Ministry.  On SCRC.org, you can learn and experience Renewal yourself, or read testimonies of those who have been touched by the Renewal in their own lives.

Pope St. Pius X - August 21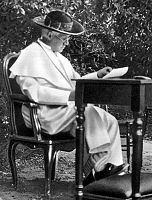 Italian.
Born: 1835. Died: August 21, 1914 at Vatican City from natural causes aggravated by worries over the beginning of World War I
Son of Giambattista Sarto, a village cobbler, and Margherita Sanson, living an impoverished childhood as one of eight children. Baptized on 3 June 1835. Confirmed on 1 September 1848. He early felt a calling to the priesthood. Studied at the seminary of...
Read More About Pope St. Pius X

Other Ways to Experience Charismatic Renewal
Testimonies
Click a picture to read

Inspire Others With Your Testimony