Saint of the Day | Testimonies | Watch Videos and Hear Talks | Renewal Articles
Experience Catholic Charismatic Renewal
For almost four decades, hundreds of thousands of people have experienced Catholic Charismatic Renewal through the SCRC Ministry.  On SCRC.org, you can learn and experience Renewal yourself, or read testimonies of those who have been touched by the Renewal in their own lives.

St. Agnes of Montepulciano - April 20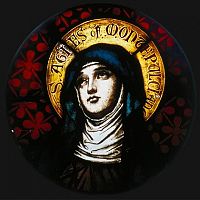 Italian, 1268-1317
She was admitted to the convent at Montepulciano, Italy at age nine. When her spiritual director was appointed abbess at Procena, she took Agnes with her. Agnes's reputation for holiness attracted other sisters. Abbess at age fifteen after receiving special permission from Pope Nicholas IV. Agnes insisted on greater austerities in the abbey; she lived off bread and water,...
Read More About St. Agnes of Montepulciano

Other Ways to Experience Charismatic Renewal
Testimonies
Click a picture to read

Inspire Others With Your Testimony