Saint of the Day | Testimonies | Watch Videos and Hear Talks | Renewal Articles
Experience Catholic Charismatic Renewal
For almost four decades, hundreds of thousands of people have experienced Catholic Charismatic Renewal through the SCRC Ministry.  On SCRC.org, you can learn and experience Renewal yourself, or read testimonies of those who have been touched by the Renewal in their own lives.

Blessed Laura Montoya Upegui - October 21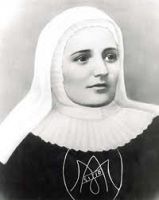 Colombian.
1874-1949
Educated at the Holy Spirit School in Amalfi, Colombia, and in Medellin, Colombia. Teacher. Beginning in 1908, she worked as missionary to the natives in the Uraba and Sarare regions. Founded the Works of the Indians and the Congregation of Missionary Sisters of Immaculate Mary and of Saint Catherine of Siena who minister to the poor throughout South America. Known for...
Read More About Blessed Laura Montoya Upegui

Other Ways to Experience Charismatic Renewal
Testimonies
Click a picture to read

Inspire Others With Your Testimony