Saint of the Day | Testimonies | Watch Videos and Hear Talks | Renewal Articles
Experience Catholic Charismatic Renewal
For almost four decades, hundreds of thousands of people have experienced Catholic Charismatic Renewal through the SCRC Ministry.  On SCRC.org, you can learn and experience Renewal yourself, or read testimonies of those who have been touched by the Renewal in their own lives.

Blessed Fra Angelico - February 18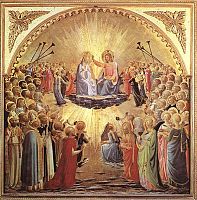 b. 1387, in Vicchio di Mugello, near Florence, Italy. Died, 1455.
Patron of Artists
Joined the Dominicans in Fiesole, Italy in 1407, taking the name Fra Giovanna. He was taught to illuminate missals and manuscripts, and immediately exhibited a natural talent as an artist. Today his works can be seen in the Italian cities Cortona, Fiesole, Florence, and in the Vatican. His dedication to...
Read More About Blessed Fra Angelico

Other Ways to Experience Charismatic Renewal
Testimonies
Click a picture to read

Inspire Others With Your Testimony