March 25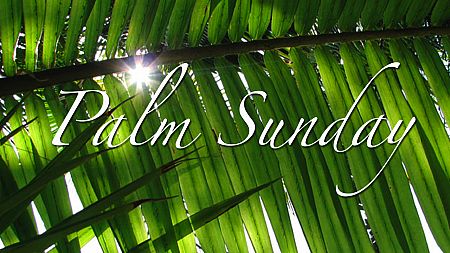 Hosanna to you, Son of David, King of the ages,
-hosanna to you, victor over death and the powers of darkness.
You went up to Jerusalem to suffer and so enter into your glory,
-lead your Church into the paschal feast of heaven.
You made your cross the tree of life,
- give its fruit to those reborn in baptism.
Savior of mankind, you came to save sinners,
- bring into your kingdom all who have faith, hope, and love.
Prayer for Passion Sunday....
Loving God,
I am just beginning to realize how much you love me.
Your son, Jesus was humble and obedient.
He fulfilled your will for him by becoming human and suffering with us.
I ask you for the desire to become more humble
so that my own life might also bear witness to you.
I want to use the small sufferings I have in this world to give you glory.
Please, Lord, guide my mind with your truth.
Strengthen my life by the example of Jesus.
Help me to be with Jesus in this week
as he demonstrates again his total love for me.
He died so that I would no longer be separated from you.
Help me to feel how close you are and to live in union with you. Amen.