February 20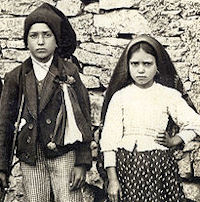 Two of the visionaries of Our Lady of Fatima in Portugal in 1917.
Beatified by Pope John Paul II, May 13, 2000.
Canonized by Pope Francis, May 13, 2017.
Francisco Marto:
Born June 11, 1908 at Aljustrel, Santarem, Portugal. Died: April 4, 1919 at Aljustrel, Portugal.
Jacinta Marto:
Born March 11, 1910 in Aljustrel, Santarem, Portugal. Died: February 20, 1920 in Lisbon, Portugal.
One day in 1916, they saw an Angel, who told them he was the angel of peace and the guardian angel of Portugal. The angel taught the amazed children a prayer to say in reparation for sins: "My God, I believe, I adore, I hope, and I love You! I ask pardon of You for those who do not believe, do not adore, do not hope and do not love You!"