March 20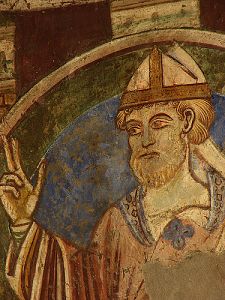 634-687, somewhere in the British Isles.
Orphaned at an early age. Shepherd. Received a vision of St. Aidan of Lindisfarne entering heaven; the sight led Cuthbert to become a Benedictine monk at age 17 at the monastery of Melrose, which had been founded by Saint Aidan. Spiritual student of Saint Boswell. Prior of Melrose in 664.
Due to a dispute over liturgical practice, Cuthbert and other monks abandoned Melrose for Lindisfarne. There he worked with Saint Eata. Prior and then abbot of Lindisfarne until 676. Hermit on the Farnes Islands. Bishop of Hexham, England. Bishop of Lindisfarne in 685. Friend of Saint Ebbe the Elder. Worked with plague victims in 685. Had the gift of healing and prophecy. Evangelist in his diocese, often to the discomfort of local authorities both secular and ecclesiastical. Presided over his abbey and his diocese during the time when Roman rites were supplanting the Celtic, and all the churches in the British Isles were brought under a single authority.