View SCRC News and Events | All Charismatic Events | Reserve or Register for an Event
Healing the Family Tree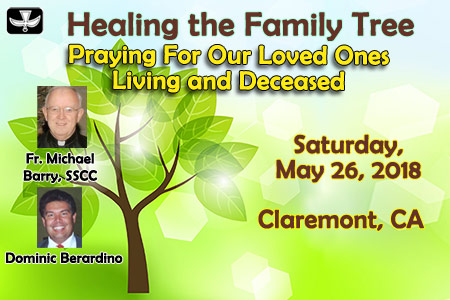 Sat, May 26 2018
9:30 am to 3:00 pm
Praying for Our Loved Ones, Living and Deceased
• Healing the Harmful Effects of Ancestral Sin

• Why is it Important to Pray for the Deceased?

• Breaking Bondages Over Generations

• Helping Future Generations Experience Freedom and Transformation

Includes a Mass for Healing the Family Tree

Speakers:

Fr. Michael Barry, SSCC
Mary's Mercy Center - San Bernardino, CA

Dominic Berardino
President, SCRC - Burbank, CA
Registration Cost by May 18: $25
Thereafter: $30
GENOGRAM:
Preparing your own personal genogram will help you pray more specifically for your family members/immediate ancestry. A blank genogram will be mailed to all who pre-register before May 18.
Bring your completed genogram to the conference.
You can download your Genogram by clicking here.
MASS FOR GENERATIONAL HEALING:
A Special Mass will be offered for all living and deceased loved ones. Your genogram will be placed on the altar.
PRAYER WALL:
A prayer wall will be constructed with pictures of your deceased family members and friends to be prominently placed near the altar during the Eucharist being offered for them. Bring copies or reproductions of family portraits, and/or funeral mass cards. (Please do not bring originals in case they are lost or damaged.)