View SCRC News and Events | All Charismatic Events | Reserve or Register for an Event
SCRC Spring Conference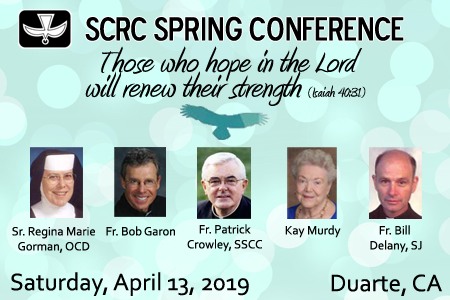 Sat, Apr 13 2019
10:00 am to 5:30 pm
Those who hope in the Lord will renew their strength. (Isaiah 40:31)
Five speakers and a Palm Sunday Mass.

Speakers

Sr. Regina Marie Gorman, OCD:
"Trusting in the Lord"

Fr. Bob Garon:
"Strength for the Journey"

Fr. Patrick Crowley SSCC:
Celebrant: Palm Sunday Vigil Mass and Healing Prayer

Kay Murdy:
"Abounding in Hope"

Fr. Bill Delaney, SJ:
"I Am With You"
Discounted Registration Through April 4: $22
Thereafter: $27

All individuals whose pre-registrations are received by April 4 will be sent a schedule, tickets, detailed directions, parking info and map of local restaurants.
DIRECTIONS
-Take the 210 Fwy, Exit Buena Vista Street
-Go North toward the foothills. (a few blocks)
-Santa Teresita Hospital is on left side of street
-Madonna Hall is on the Buena Vista side of the hospital grounds. Free parking.