View SCRC News and Events | All Charismatic Events | Reserve or Register for an Event
SCRC Annual Banquet: "Hymn of Praise"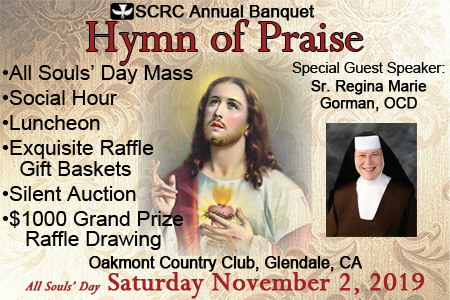 Sat, Nov 2 2019
10:30 am to 2:00 pm
SCRC invites you to a very special Banquet to benefit SCRC's ministry outreach with Special Guest Speaker Sr. Regina Marie Gorman, OCD.
• 10:30am sharp All Souls' Day Mass
• 11:00am Social Hour
• Luncheon
• Exquisite Raffle Gift Baskets
• Silent Auction
• $1000 Grand Prize Raffle Drawing
Special Guest Speaker Sister Regina Marie Gorman, OCD
Carmelite Sisters of the Most Sacred Heart of Los Angeles

Sister Regina Marie, O.C.D., a native of Detroit, was raised in Los Angeles where she entered Carmel in 1972. She now serves as Vicar General of her Community and as Chair of a national Conference of Major Superiors of Women Religious. Come hear her powerful testimony of how the compelling call of Jesus transformed her life. Her witness and her service is a "Hymn of Praise" in response to God's love and mercy.
Dress code required: Business attire.
Please, no jeans or khakis.
Luncheon Tickets $75 each. Tables for 8 ($600) and 10 ($750) are available.
Contact SCRC to find out more about the $1000 Grand Prize Raffle