View SCRC News and Events | All Charismatic Events | Reserve or Register for an Event
SCRC Retreat: Growing As a Disciple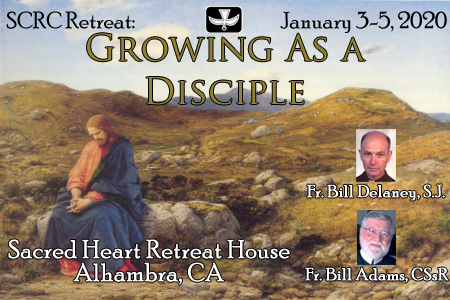 Fri, Jan 3 2020 to Sun, Jan 5 2020
The Annual SCRC Retreat at the Sacred Heart Retreat House, Alhambra, CA
Take this opportunity as the new year begins to spend time with the Lord at the beautiful and serene Sacred Heart Retreat House.

Lead by Fr. Bill Adams, CSsR and Fr. Bill Delaney, SJ.

Begins Friday at 7:30 pm, ends Sunday at 3:00 pm.

There will be ample opportunities for silence.
Topics Include:

- "What Do You Seek?"

- "You Will Receive Power"

- "Teach Us to Pray"

- "You Will Be My Witnesses"

- "I Will Give You Rest"

- "That They May Be One"

- Daily Mass
- Saturday Night Healing Service
With Fr. Bill Adams, CSsR and Fr. Bill Delaney, SJ
Private w/private bath $310
Semi Private w/ shared bath $270/ person
Double Room-2 beds w/private bath $190/ person
Married Couple Room-Queen bed w/ private bath $380/couple
Commuters Sat & Sun $150
Commuters Sat Only $85
Commuters Sun Only $65