View SCRC News and Events | All Charismatic Events | Reserve or Register for an Event
Led by the Spirit: Where is the Spirit Leading?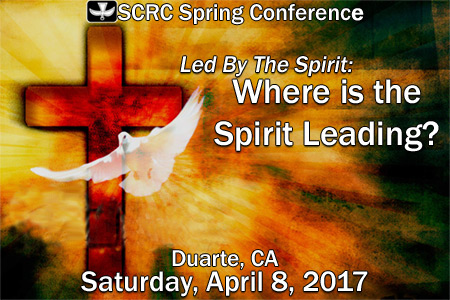 Sat, Apr 8 2017
10:00 am to 5:30 pm
The SCRC Spring Conference
Fr. Bill Adams, CSsR:
"Holiness: Cultivating the Fruit of the Spirit"

Elizabeth Kim, PhD:
"Healing and Transformation" (with healing prayer)

Fr. Bill Delaney, SJ:
"Growing in the Gifts of the Spirit"

Dominic Berardino:
"Praise as a Way of Life"

Fr. Charles Lueras, CRIC:
Celebrant: Palm Sunday Vigil Mass, Procession with Palms
Registration: $27
DIRECTIONS
-Take the 210 Fwy, Exit Buena Vista Street
-Go North toward the foothills. (a few blocks)
-Santa Teresita Hospital is on left side of street
-Madonna Hall is on the Buena Vista side of the hospital grounds. Free parking.