SCRC's Mission | About Catholic Charismatic Renewal | SCRC's History | About Exorcism
SCRC's Mission
To make known the transforming power of Jesus Christ in the Holy Spirit to the Glory of God the Father.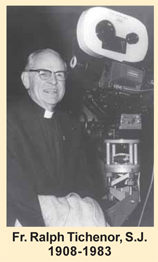 Since 1972 Southern California Renewal Communities (SCRC) has helped shepherd the modern-day Charismatic renewal among Catholics. Our mission is to help people be transformed by discovering a new openness to the reality of the Holy Spirit:
"There are different kinds of spiritual gifts but the same Spirit;
there are different forms of service but the same Lord;
there are different workings but the same God who
produces all of them in everyone. To each individual the
manifestation of the Spirit is given for some benefit."
- 1 Corinthians 12:4-7
In 1970, at Loyola University a talk was given on the modern day movement of the Holy Spirit. A charismatic prayer group was then formed on campus.
In 1971, Fr. Ralph Tichenor, SJ, became the groups' spiritual director, and experienced the Baptism of the Holy Spirit.
In 1972, with Fr. Ralph Tichenor, SJ as President, Cardinal Timothy Manning commissioned SCRC to pastor Charismatic prayer groups in the parishes of the Los Angeles Archdiocese. Southern California Renewal Communities (SCRC) was established that year as a legal non-profit religious organization to serve this burgeoning Renewal. An SCRC Service Center was opened in 1973.
Today, SCRC provides teaching, communication and guidance in bringing Charismatic Renewal into the heart of the Church. The annual SCRC Catholic Renewal Convention has grown to become the largest gathering of its kind in North America!
YOUR SUPPORT IS VITAL! - Click here to Donate
SCRC is an officially commissioned ministry of the Los Angeles Archdiocese. This ministry is completely self-supporting and is not financially subsidized by any diocese, church or institution.
Help us to bring the Good News of Jesus Christ and the transforming power of the Holy Spirit to those in need. In addition to the annual Renewal Convention, SCRC provides a spring conference, teachings in parishes throughout Southern California, support for parish prayer groups, a CD/Tape/DVD and book ministry, and other outreaches.
As a California non-profit organization, all your donations to the SCRC ministry are tax-deductible.

SCRC
9795 Cabrini Drive • Suite 208
Burbank, CA. 91504-1740
(818) 771-1361 • fax (818) 771-1379