Saint of the Day | Testimonies | Watch Videos and Hear Talks | Renewal Articles
Experience Catholic Charismatic Renewal
For almost four decades, hundreds of thousands of people have experienced Catholic Charismatic Renewal through the SCRC Ministry.  On SCRC.org, you can learn and experience Renewal yourself, or read testimonies of those who have been touched by the Renewal in their own lives.

St. Nicholas of Myra - December 6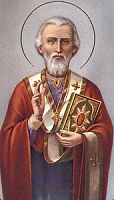 Died, c. 346 in Myra, Lycia (now modern Turkey)
Priest. Abbot. Bishop of Myra, Lycia (modern Turkey). Generous to the poor, and special protector of the innocent and wronged. Many stories grew up around him prior to his becoming associated with Santa Claus. An example:
Upon hearing that a local man had fallen on such hard times that he was planning to sell his daughters into...
Read More About St. Nicholas of Myra

Other Ways to Experience Charismatic Renewal
Testimonies
Click a picture to read

Inspire Others With Your Testimony