Saint of the Day | Testimonies | Watch Videos and Hear Talks | Renewal Articles
Experience Catholic Charismatic Renewal
For almost four decades, hundreds of thousands of people have experienced Catholic Charismatic Renewal through the SCRC Ministry.  On SCRC.org, you can learn and experience Renewal yourself, or read testimonies of those who have been touched by the Renewal in their own lives.

St. Vincent Strambi - September 25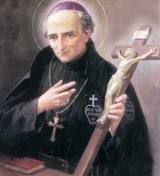 Italian.
1745-1824
Son of a druggist. His parents encouraged his vocation of a parish priest. Ordained in 1767. Joined the Passionists in 1768 after a retreat led by Saint Paul of the Cross. Professor of theology. Passionist provincial in 1781. Bishop of Macerata-Tolentino, Italy in 1801. Exiled in 1808 for refusing to take an oath of allegiance to Napoleon, but returned in 1813 after...
Read More About St. Vincent Strambi

Other Ways to Experience Charismatic Renewal
Testimonies
Click a picture to read

Inspire Others With Your Testimony