Saint of the Day | Testimonies | Watch Videos and Hear Talks | Renewal Articles
Experience Catholic Charismatic Renewal
For almost four decades, hundreds of thousands of people have experienced Catholic Charismatic Renewal through the SCRC Ministry.  On SCRC.org, you can learn and experience Renewal yourself, or read testimonies of those who have been touched by the Renewal in their own lives.

St. Josaphat of Polotsk - November 12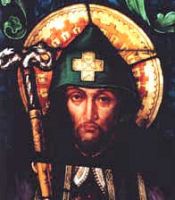 1580-1643
Born in Lithuania (modern Ukraine)
His father was a municipal counselor, and his mother known for her piety. Raised in the Orthodox Ruthenian Church which, on 23 November 1595 in the Union of Brest, united with the Church of Rome. Trained as a merchant's apprentice at Vilna, Lithuania, he was offered partnership in the business, and marriage to his partner's daughter; feeling the...
Read More About St. Josaphat of Polotsk

Other Ways to Experience Charismatic Renewal
Testimonies
Click a picture to read

Inspire Others With Your Testimony