Saint of the Day | Testimonies | Watch Videos and Hear Talks | Renewal Articles
Experience Catholic Charismatic Renewal
For almost four decades, hundreds of thousands of people have experienced Catholic Charismatic Renewal through the SCRC Ministry.  On SCRC.org, you can learn and experience Renewal yourself, or read testimonies of those who have been touched by the Renewal in their own lives.

St. Lorenzo Ruiz - September 28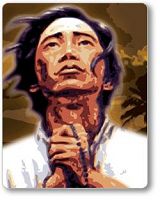 1600-1637, First Filipino Saint
Chinese father, Filipino mother, both Christians. He learned Chinese and Tagalog from them, Spanish from the Dominicans whom he served as altar boy and sacristan. Professional calligrapher and documents transcriptionist. Member of the Confraternity of the Holy Rosary. Married layman, and the father of two sons and a daughter.
For unknown reasons, Lorenzo was...
Read More About St. Lorenzo Ruiz

Other Ways to Experience Charismatic Renewal
Testimonies
Click a picture to read

Inspire Others With Your Testimony