Saint of the Day | Testimonies | Watch Videos and Hear Talks | Renewal Articles
Experience Catholic Charismatic Renewal
For almost four decades, hundreds of thousands of people have experienced Catholic Charismatic Renewal through the SCRC Ministry.  On SCRC.org, you can learn and experience Renewal yourself, or read testimonies of those who have been touched by the Renewal in their own lives.

St. Francis de Sales - January 24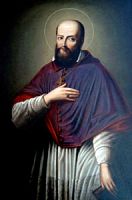 Born: 1567, Chateau de Thorens, Savoy (part of modern France)
Died: 1622, Lyon, France
Born in the castle of Chateau de Thorens to a well-placed Savoyard family, the eldest of twelve children born to Francois de Boisy and Francoise de Sionnz. His parents intended that Francis become a lawyer, enter politics, and carry on the family line and power. He studied at La Roche and Annecy in...
Read More About St. Francis de Sales

Other Ways to Experience Charismatic Renewal
Testimonies
Click a picture to read

Inspire Others With Your Testimony