Saint of the Day | Testimonies | Watch Videos and Hear Talks | Renewal Articles
Experience Catholic Charismatic Renewal
For almost four decades, hundreds of thousands of people have experienced Catholic Charismatic Renewal through the SCRC Ministry.  On SCRC.org, you can learn and experience Renewal yourself, or read testimonies of those who have been touched by the Renewal in their own lives.

Our Lady, Refuge of Sinners - August 13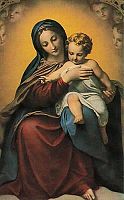 No title has drawn so many to the feet of Mary than that of Refuge of Sinners. Dating back to the time of St. Germanus of Constantinople in the 8th century, this title is associated with the image of Mary as the New Eve. Where Eve was responsible for the suffering of humans since their fall from Heaven, the Virgin Mary is viewed as the source of all healing. She is the new Eve who cannot...
Read More About Our Lady, Refuge of Sinners

Other Ways to Experience Charismatic Renewal
Testimonies
Click a picture to read

Inspire Others With Your Testimony