Saint of the Day | Testimonies | Watch Videos and Hear Talks | Renewal Articles
Experience Catholic Charismatic Renewal
For almost four decades, hundreds of thousands of people have experienced Catholic Charismatic Renewal through the SCRC Ministry.  On SCRC.org, you can learn and experience Renewal yourself, or read testimonies of those who have been touched by the Renewal in their own lives.

St. Rita of Cascia - May 22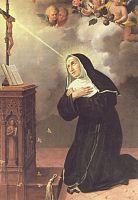 1386, Umbria, Italy
1457, Cascia, Italy
Born at Roccaporena in central Italy, Rita wanted to become a nun but was pressured at a young age into marrying a harsh and cruel man. During her 18-year marriage, she bore and raised two sons. After her husband was killed in a brawl and her sons had died, Rita tried to join the Augustinian nuns in Cascia. Unsuccessful at first because she was a widow,...
Read More About St. Rita of Cascia

Other Ways to Experience Charismatic Renewal
Testimonies
Click a picture to read

Inspire Others With Your Testimony