Saint of the Day | Testimonies | Watch Videos and Hear Talks | Renewal Articles
Experience Catholic Charismatic Renewal
For almost four decades, hundreds of thousands of people have experienced Catholic Charismatic Renewal through the SCRC Ministry.  On SCRC.org, you can learn and experience Renewal yourself, or read testimonies of those who have been touched by the Renewal in their own lives.

The Feast of Pentecost - May 31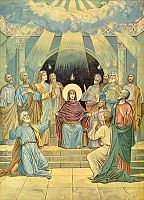 Veni Sancte Spiritus
Come, Holy Spirit,
send forth the heavenly
radiance of your light.
Come, father of the poor,
come giver of gifts,
come, light of the heart.
Greatest comforter,
sweet guest of the soul,
sweet consolation.
In labor, rest,
in heat, temperance,
in tears, solace.
O most blessed light,
fill the inmost...
Read More About The Feast of Pentecost

Other Ways to Experience Charismatic Renewal
Testimonies
Click a picture to read

Inspire Others With Your Testimony