Saint of the Day | Testimonies | Watch Videos and Hear Talks | Renewal Articles
Experience Catholic Charismatic Renewal
For almost four decades, hundreds of thousands of people have experienced Catholic Charismatic Renewal through the SCRC Ministry.  On SCRC.org, you can learn and experience Renewal yourself, or read testimonies of those who have been touched by the Renewal in their own lives.

St. Catherine Laboure - November 28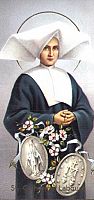 1806-1876
Born in Burgundy, France.
Ninth of eleven children born to a farm family, and from an early age Catherine felt a call to the religious life. Never learned to read or write. Forced to take over running the house at age eight after her mother died and her older sister joined the Sisters of Charity. Worked as a waitress in her uncle's cafe in Paris, France. Upon entering a hospital...
Read More About St. Catherine Laboure

Other Ways to Experience Charismatic Renewal
Testimonies
Click a picture to read

Inspire Others With Your Testimony