Saint of the Day | Testimonies | Watch Videos and Hear Talks | Renewal Articles
Experience Catholic Charismatic Renewal
For almost four decades, hundreds of thousands of people have experienced Catholic Charismatic Renewal through the SCRC Ministry.  On SCRC.org, you can learn and experience Renewal yourself, or read testimonies of those who have been touched by the Renewal in their own lives.

Presentation of the Blessed Virgin Mary - November 21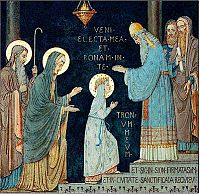 Mary's presentation was celebrated in Jerusalem in the sixth century. A church was built there in honor of this mystery. The Eastern Church was more interested in the feast, but it does appear in the West in the 11th century. Although the feast at times disappeared from the calendar, in the 16th century it became a feast of the universal Church.
As with Mary's birth, we read of Mary's...
Read More About Presentation of the Blessed Virgin Mary

Other Ways to Experience Charismatic Renewal
Testimonies
Click a picture to read

Inspire Others With Your Testimony