Saint of the Day | Testimonies | Watch Videos and Hear Talks | Renewal Articles
Experience Catholic Charismatic Renewal
For almost four decades, hundreds of thousands of people have experienced Catholic Charismatic Renewal through the SCRC Ministry.  On SCRC.org, you can learn and experience Renewal yourself, or read testimonies of those who have been touched by the Renewal in their own lives.

St. Matthew the Apostle - September 21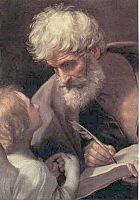 Son of Alphaeus, he lived at Capernaum on Lake Genesaret (Sea of Galilee). He was a Roman tax collector, a position equated with collaboration with the enemy by those from whom he collected taxes. Jesus' contemporaries were surprised to see the Christ with a traitor, but Jesus explained that he had come "not to call the just, but sinners."
Matthew's Gospel is given pride of place in the...
Read More About St. Matthew the Apostle

Other Ways to Experience Charismatic Renewal
Testimonies
Click a picture to read

Inspire Others With Your Testimony