Saint of the Day | Testimonies | Watch Videos and Hear Talks | Renewal Articles
Experience Catholic Charismatic Renewal
For almost four decades, hundreds of thousands of people have experienced Catholic Charismatic Renewal through the SCRC Ministry.  On SCRC.org, you can learn and experience Renewal yourself, or read testimonies of those who have been touched by the Renewal in their own lives.

Blessed Maria Gabriella Sagheddu - April 22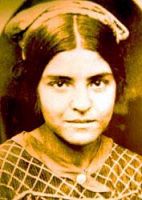 Born, 1914 in Sardinia, Italy.
Died, 1939 during Vespers of tuberculosis
Beatified January 25, 1983 by Pope John Paul II
Born to a family of shepherds. As a child she was described as obstinate, critical, protesting, and rebellious - but loyal, and obedient; she would say no to a request - but act on it at once. At 18 she became gentler, her temper abated, she became involved in prayer and...
Read More About Blessed Maria Gabriella Sagheddu

Other Ways to Experience Charismatic Renewal
Testimonies
Click a picture to read

Inspire Others With Your Testimony