Saint of the Day | Testimonies | Watch Videos and Hear Talks | Renewal Articles
Experience Catholic Charismatic Renewal
For almost four decades, hundreds of thousands of people have experienced Catholic Charismatic Renewal through the SCRC Ministry.  On SCRC.org, you can learn and experience Renewal yourself, or read testimonies of those who have been touched by the Renewal in their own lives.

St. Elizabeth of Hungary - November 17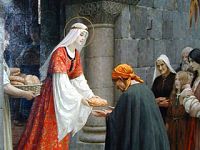 1207-1231
Princess, the daughter of King Andrew of Hungary. Great-aunt of Saint Elizabeth of Portugal. She married Prince Louis of Thuringa at age 13. Built a hospital at the foot of the mountain on which her castle stood; tended to the sick herself. Her family and courtiers opposed this, but she insisted she could only follow Christ's teachings, not theirs. Once when she was taking food to...
Read More About St. Elizabeth of Hungary

Other Ways to Experience Charismatic Renewal
Testimonies
Click a picture to read

Inspire Others With Your Testimony