Saint of the Day | Testimonies | Watch Videos and Hear Talks | Renewal Articles
Experience Catholic Charismatic Renewal
For almost four decades, hundreds of thousands of people have experienced Catholic Charismatic Renewal through the SCRC Ministry.  On SCRC.org, you can learn and experience Renewal yourself, or read testimonies of those who have been touched by the Renewal in their own lives.

St. Lutgardis - June 16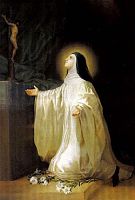 Born: 1182 - Tongres in the Netherlands
Died: June 16, 1246 at Aywieres, Belgium
At the age of twelve Lutgardis was placed in the Benedictine convent of St. Catherine near Saint-Trond. Originally she felt no inclination whatsoever toward the religious life, but one day she had a vision of Christ that changed her outlook. At the age of twenty, Lutgardis entered the Benedictines. For more than...
Read More About St. Lutgardis

Other Ways to Experience Charismatic Renewal
Testimonies
Click a picture to read

Inspire Others With Your Testimony