Saint of the Day | Testimonies | Watch Videos and Hear Talks | Renewal Articles
Experience Catholic Charismatic Renewal
For almost four decades, hundreds of thousands of people have experienced Catholic Charismatic Renewal through the SCRC Ministry.  On SCRC.org, you can learn and experience Renewal yourself, or read testimonies of those who have been touched by the Renewal in their own lives.

St. Jude Thaddeus - October 28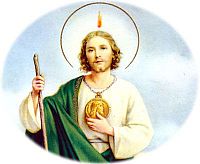 St. Jude, known as Thaddaeus, was a brother of St. James the Less, and a relative of Our Saviour. St. Jude was one of the 12 Apostles of Jesus.
Ancient writers tell us that he preached the Gospel in Judea, Samaria, Idumaea, Syria, Mesopotamia, and Lybia. According to Eusebius, he returned to Jerusalem in the year 62, and assisted at the election of his brother, St. Simeon, as Bishop of...
Read More About St. Jude Thaddeus

Other Ways to Experience Charismatic Renewal
Testimonies
Click a picture to read

Inspire Others With Your Testimony