Saint of the Day | Testimonies | Watch Videos and Hear Talks | Renewal Articles
Experience Catholic Charismatic Renewal
For almost four decades, hundreds of thousands of people have experienced Catholic Charismatic Renewal through the SCRC Ministry.  On SCRC.org, you can learn and experience Renewal yourself, or read testimonies of those who have been touched by the Renewal in their own lives.

St. Lawrence of Brindisi - July 21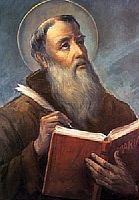 Italian. 1559-1619
Son of Guglielmo de Rossi and Elisabetta Masella. He felt an early call to religious life, and was educated by the Friars Minor Conventuals of Brindisi, Italy. His father died when the boy was twelve. Studied in Venice. Joined the Capuchin Friars in 1575 at age 16, taking the name Brother Lorenzo. Studied theology, the Bible, French, German, Greek, Spanish, Syriac, and...
Read More About St. Lawrence of Brindisi

Other Ways to Experience Charismatic Renewal
Testimonies
Click a picture to read

Inspire Others With Your Testimony