Saint of the Day | Testimonies | Watch Videos and Hear Talks | Renewal Articles
Experience Catholic Charismatic Renewal
For almost four decades, hundreds of thousands of people have experienced Catholic Charismatic Renewal through the SCRC Ministry.  On SCRC.org, you can learn and experience Renewal yourself, or read testimonies of those who have been touched by the Renewal in their own lives.

St. Barbatus of Benevento - February 19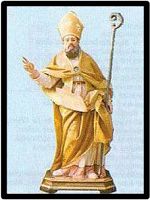 610-682, Bishop
Priest at an early age. Fiery preacher whose flock turned on him because of his zeal; he finally resigned his parish and returned home. There he fought against a resurgent paganism involving the worship of a golden viper and animal skin hung in a tree. For unrelated reasons, the army of Emperor Constans, besieged Benevento; the locals soon listened to the preacher, renounced...
Read More About St. Barbatus of Benevento

Other Ways to Experience Charismatic Renewal
Testimonies
Click a picture to read

Inspire Others With Your Testimony