Saint of the Day | Testimonies | Watch Videos and Hear Talks | Renewal Articles
Experience Catholic Charismatic Renewal
For almost four decades, hundreds of thousands of people have experienced Catholic Charismatic Renewal through the SCRC Ministry.  On SCRC.org, you can learn and experience Renewal yourself, or read testimonies of those who have been touched by the Renewal in their own lives.

St. Vincent de Paul - September 27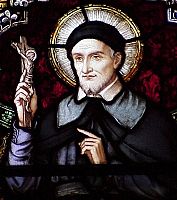 French.
1581-1660
Born to a peasant family. A highly intelligent youth, Vincent spent four years with the Franciscan friars at Acq, France getting an education. Tutor to children of a gentlemen in Acq. He began divinity studies in 1596 at the University of Toulouse. Ordained at age 20.
Taken captive by Turkish pirates to Tunis, and sold into slavery. Freed in 1607 when he converted one...
Read More About St. Vincent de Paul

Other Ways to Experience Charismatic Renewal
Testimonies
Click a picture to read

Inspire Others With Your Testimony