Saint of the Day | Testimonies | Watch Videos and Hear Talks | Renewal Articles
Experience Catholic Charismatic Renewal
For almost four decades, hundreds of thousands of people have experienced Catholic Charismatic Renewal through the SCRC Ministry.  On SCRC.org, you can learn and experience Renewal yourself, or read testimonies of those who have been touched by the Renewal in their own lives.

Blessed Maria Teresa Fasce - January 18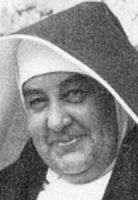 Born: 1881, Genoa, Italy.
Died: 1947...buried next to St. Rita of Cascia.
Taught catechism to children. She grew to love Augustinian spirituality, and became acquainted with the human and spiritual adventure of Rita of Cascia, whose canonization in 1900 was very special to Maria, leading to her desire to be an Augustinian religious in the monastery of Cascia, Italy. She entered in June...
Read More About Blessed Maria Teresa Fasce

Other Ways to Experience Charismatic Renewal
Testimonies
Click a picture to read

Inspire Others With Your Testimony