Alana Antolak | Al Briones | Dave and Debbie Granucci | Eryn Corralejo | Kent Hori | Lisa Ferguson | OLA Ventura Prayer Group
Testimonies
Eryn Corralejo - "Growing in Faith as a Catholic Young Adult"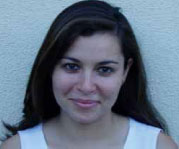 The summer following my senior year in high school a friend shared an SCRC Convention flier with me. The idea of a religious convention was foreign to me despite being an active Catholic teen. I was interested in attending because I wanted to learn more about my Catholic faith, grow closer to God, and meet fellow young, enthusiastic Catholics. After my first week of college I found myself driving to Anaheim on my own to make friends and satisfy my curiosity as to what it meant to be a Catholic Charismatic.
What an experience! I loved hearing one wise and interesting speaker after another. The masses were beautiful and holy. I visited both teen and adult sessions. The teen adoration and talks moved me to tears and insipired deeper devotion to God. The adult talks were stimulating and relevant to the daily challenge to be a good Catholic. They compelled me to reflect deeply on my life goals and relationships, on how I treat my neighbor. The Convention did bring me closer to God, His people, and His complete peace. After my first three days of SCRC, I was hooked.
Six years later, I anticipate each new convention and monthly Young Adult Mass with excitement. I feel drawn to continue to build my relationship with God in a weekend of reflection. I return to the SCRC Convention to help build the growing community of young adults. I come to learn more about what it means to be Catholic, and every year it is a welcomed break from the hectic rush that is life as a young adult in Southern California. Every year the message I receive at SCRC conferences evolves as do the stages in my life. I feel God speaks to me through the masses, talks, and people I meet through SCRC. I feel as though the homilies and talks are personalized to reach me, and as my life changes so do the messages to guide my current struggles and joys. I feel that the Lord's message has been remarkably strong at conference weekends in which I struggled to attend. I know that every time I attend the conference it is a holy, loving weekend of growth with God's people.
Today I am excited to have finally found my own niche within the SCRC community as an active member of the SCRC Young Adult group. I have formed lifelong friendships with people from Los Angeles to Cartagena, Columbia! I have learned the high value of growing in faith with peers. Friends in the YA community remind me that I am not crazy for disagreeing with the values of popular culture. I feel blessed to have the opportunity to learn and grow within the SCRC community. I am grateful to the loving and generous people who make up the SCRC family.
Click here to see all Testimonies.