Alana Antolak | Al Briones | Dave and Debbie Granucci | Eryn Corralejo | Kent Hori | Lisa Ferguson | OLA Ventura Prayer Group
Testimonies
Kent Hori - "Blessings of Being Catholic"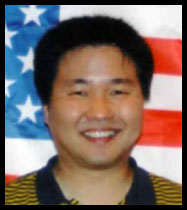 I was raised a Buddhist. When I heard the Christmas story and learned about the Eucharist, I was attracted to belief in Jesus Christ.

As a college student, I joined the Catholic Church and was baptized.

My decision to become a Catholic was a very happy one. However, my conversion was accompanied by a very high price. My father is a devout Buddhist. Though he spent most of his adult life as a history professor, he is an ordained Buddhist minister. The news of my becoming Catholic had caused much strain in my relations with my father. The sect of Buddhism my father belongs to is very hostile towards Christianity. If a Buddhist minister's son were to join another faith, the conversion is seen as a grave scandal.

One year after I joined the Catholic faith, I was introduced to the Catholic Charismatic Renewal. Since that time, my hunger for more spiritual food increased and I started attending prayer meetings and spent more time with the Lord in prayer. I even began to attend daily Mass.

I have joyfully participated in the SCRC Catholic Renewal Convention for some years now. It was a special delight for me when the Young Adult Conference was initiated at the SCRC Convention. It was a great opportunity to fellowship with other young adults, pray with them, share with them what the Lord is doing in my life, and to start new friendships.

During my years in the Charismatic renewal, I have always asked people in prayer meetings to pray for healing of my relationship with my father. It is true that the Lord did say, "Whoever loves father or mother more than me is not worthy of me" (Mt. 10:37), however, I still believe the Lord still wants to heal relationships. Though this prayer has yet to be answered, I am content with the knowledge that following Jesus may have a high cost. In our Catholic faith, I have found a large family and a loving heavenly Father, who is God.

Please pray that my earthly father's heart would be softened towards me and that he might someday share in the happiness I have fouond in knowing Christ.
Click here to see all Testimonies.