April 27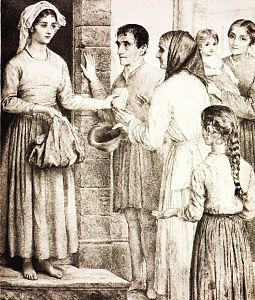 1218 - 1272, Lucca, Italy
Born to a very poor but pious family. At age twelve she became a domestic servant for the wealthy Fainelli family in Lucca, Italy, a position she kept all her life; she looked at it as a way to serve God. She often gave her own food, and sometimes that of her master, to those poorer than herself, which caused her to get in frequent trouble with her employers and the other servants in the house who resented her. However, she did such a fine job she was eventually placed in charge of the house, and entrusted with its keys. Her reputation was such that Dante in the Inferno referred to the city of Lucca as "Santa Zita".
Prayer....
Dear follower of the Son of God, you desired to become a servant and died the death of a slave. You were not only a faithful maid-servant but a practical lover of the poor. Like Mary you could have said: "Behold the handmaid of the Lord." Prompt domestics to be just and charitable, seeing in their employers children of God and setting an example for them as servants of God. Amen.
St. Zita of Lucca, pray for us!