April 23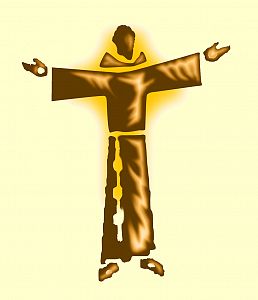 Died 1262 at Perugia, Italy.
Friend and third follower of St. Francis of Assisi. Sent as a missionary to Muslims in Tunis, but had no success. Upon his return, he lived at various places in Italy where for the rest of his days he was in demand as a spiritual advisor; his "Sayings" have been printed in many editions. Assigned later to the hermitage of Fabriano where he led a life of quiet contemplation.
"To me it seems that contemplation is a divine fire, a sweet devotion infused by the Holy Ghost, a rapture and suspension of the mind inebriated by the unspeakable savor of divine sweetness, and a sweet and tranquil enjoyment of the soul which is rapt and suspended in loving admiration of the glories of heaven, and an inward burning consciousness of that celestial and unspeakable glory." - Brother Giles of Assisi
Brother Giles of Assisi, pray for us!