April 24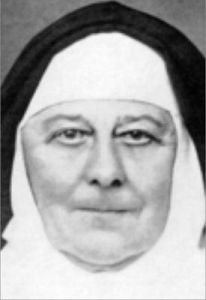 French. Born during the French Revolution in 1796- Died, 1868.
Founder of The Congregation of Our Lady of Charity of the Good Shepherd (Good Shepherd Sisters) at Tours, France and established their monastery at Angers, France in 1829; a contemplative order. She was recognized as Superior-General of the Congregation in 1831, and received approval from Pope Gregory XVI in 1835.
The Congregation has sisters working in Italy, Germany, Belgium, England, Algeria, the U.S., Canada, Egypt, Ireland, Australia, India, Chile, Malta, the Netherlands, Australia, and Myanmar. By the end of her life, there were over 2,000 sisters established in 100+ houses on five continents; this rapid expansion led to her being known as a patron of travelers.
"Draw near to our Lord, thoroughly aware of your own nothingness, and you may hope all things from His Goodness and Mercy. Never forget that Jesus Christ is no less generous in the Blessed Sacrament than He was during His mortal life on earth." - St. Mary Euphrasia Pelletier
St. Mary Euphrasia Pelletier, pray for us!