April 25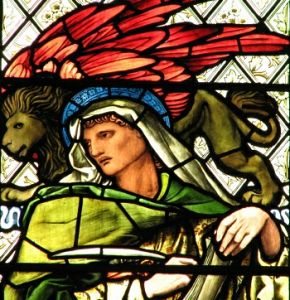 Martyred in the year 68 at Alexandria, Egypt.
The second Gospel was written by St. Mark, who, in the New Testament, is sometimes called John Mark. Both he and his mother, Mary, were highly esteemed in the early Church, and his mother's house in Jerusalem served as a meeting place for Christians there.
St.Mark was associated with St. Paul and St. Barnabas (who was Mark's cousin) on their missionary journey through the island of Cyprus. Later he accompanied St. Barnabas alone. We know also that he was in Rome with St. Peter and St. Paul. Tradition ascribes to him the founding of the Church in Alexandria.
St. Mark wrote the second Gospel, probably in Rome sometime before the year 60 A.D.; he wrote it in Greek for the Gentile converts to Christianity.
Prayer:
Almighty God, who by the hand of Mark the evangelist have given to your Church the Gospel of Jesus Christ the Son of God: We thank you for this witness, and pray that we may be firmly grounded in its truth; through Jesus Christ our Lord, who lives and reigns with you and the Holy Spirit, one God, for ever and ever. Amen.
St. Mark the Evangelist, pray for us!