April 12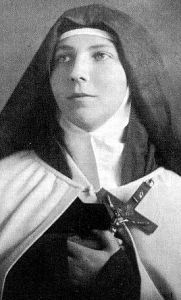 (also known as Juanita Fernandez Solar)
Chilean, 1900-1920
Canonized on March 21, 1993 by Pope John Paul II
Born to an upper class family. From her adolescence Teresa was devoted to Christ. Greatly influenced by the autobiography of St. Therese of Lisieux. She entered the monastery of the Discalced Carmelite nuns Los Andes on May 7, 1919, and was given the name Teresa of Jesus. A model for young people. The first Chilean and the first member of the Teresian Carmel in Latin America to be beatified. Her brother Luis attended her beatification in 1986.
In February of 1917 Juanita went with her mother in pilgrimage to the shrine of the Lourdes Grotto in Santiago. She wrote in her Diary the following meditation as a prayer to Mary....
"Yes, Mother, you are the celestial Madonna who guides us. You allow heavenly rays to fall from your maternal hands. I didn't believe such happiness could exist on earth; yesterday my heart, while thirsting for it, found it. My soul was ecstatic at your virginal feet, listening to you. You were speaking and your maternal language was so tender. It was from heaven, almost divine."
St. Teresa of the Andes, pray for us!