April 3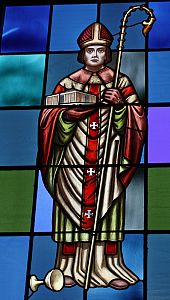 1197-1253
Second son of Richard and Alice de Wych. His father died when the boy was young. The family fell upon hard times, but as soon as he became old enough, Richard took over management of their estates and brought them back to profit. Educated at Oxford, Paris and Bologna. Chancellor of Oxford University. Legal advisor to Saint Edmund Rich and Saint Boniface of Savoy, the Archbishops of Canterbury. Priest. Bishop of Chichester. Miracles and cures occured at his shrine in Chichester.
"Thanks be to Thee, my Lord Jesus Christ For all the benefits Thou hast given me, For all the pains and insults Which Thou has borne for me. O most merciful Redeemer, Friend, and Brother, may I know Thee more clearly, Love Thee more dearly, Follow Thee more nearly, Day by day. Amen." -prayer by St. Richard
St. Richard, pray for us!