April 4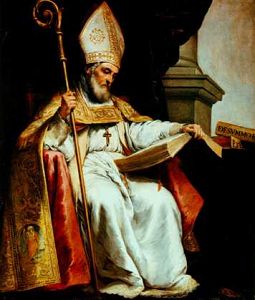 Born in Cartagena, Spain in 560
Died in Seville, Spain in 636
Doctor of the Church.
Patron Saint of Computer Users.
Served as Archbishop of Seville for more than three decades and is considered, as the historian Montalembert put it in an oft-quoted phrase, "le dernier savant du monde ancien" ("the last scholar of the ancient world"). Indeed, all the later medieval history-writing of Hispania (modern Spain and Portugal) was based on his histories.
"Almighty and eternal God,
who created us in Thy image and bade us to seek after all that is good,
true and beautiful,
especially in the divine person of Thy only-begotten Son,
our Lord Jesus Christ,
grant we beseech Thee that,
through the intercession of Saint Isidore,
bishop and doctor,
during our journeys through the internet we will direct our hands and eyes only to that which is pleasing to Thee
and treat with charity and patience all those souls whom we encounter.
Through Christ our Lord. Amen."
"Prayer purifies us, reading instructs us. Both are good when both are possible. Otherwise, prayer is better than reading. If a man wants to be always in God's company, he must pray regularly and read regularly. When we pray, we talk to God; when we read, God talks to us. All spiritual growth comes from reading and reflection. By reading we learn what we did not know; by reflection we retain what we have learned. Reading the holy Scriptures confers two benefits. It trains the mind to understand them; it turns man's attention from the follies of the world and leads him to the love of God. The conscientious reader will be more concerned to carry out what he has read than merely to acquire knowledge of it. In reading we aim at knowing, but we must put into practice what we have learned in our course of study. The more you devote yourself to study of the sacred utterances, the richer will be your understanding of them, just as the more the soil is tilled, the richer the harvest. The man who is slow to grasp things but who really tries hard is rewarded, equally he who does not cultivate his God-given intellectual ability is condemned for despising his gifts and sinning by sloth. Learning unsupported by grace may get into our ears; it never reaches the heart. But when God's grace touches our innermost minds to bring understanding, his word which has been received by the ear sinks deep into the heart." - from Book of Maxims by St. Isidore