April 28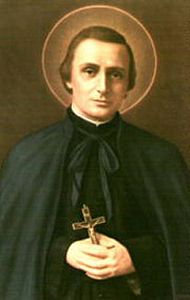 French. Martyr. 1803-1841
Born to a peasant family, he was a shepherd as a boy. An excellent student. Ordained in 1827 at age 24. He was assigned to Crozet, a parish in decline; he turned it around, in part because of his ministry to the sick, and brought a spiritual revival. Joined the Society of Mary (Marist Fathers) in 1831. Taught at the Belley seminary for five years. Led a band of missionaries to the New Hebrides in 1836, an area where cannabilism had only recently been outlawed. He converted many, often as a result of his work with the sick. He learned the local language, and taught in the local school. Killed by order of Niuliki, a native king who was jealous of Peter's influence. Peter was beaten to death with a club. First martyr in Oceania.
Prayer...
St. Peter Chanel, you left your homeland to proclaim Jesus, Savior of the world, to the peoples of Oceania. Guided by the spirit of God, who is the strength of the gentle, you bore witness to love, even laying down your life. Grant that like you we may live our daily life in peace, joy, and in love. May your prayers and example call forth from our midst many workers for the Gospel so that God's kingdom may reach to the ends of the earth. Amen.
St. Peter Chanel, pray for us!