April 21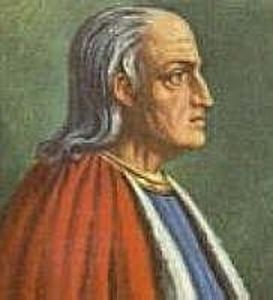 Monk, Archbishop, Theologian
Born 1033 - Piedmont, Italy
Died 1109 - Canterbury, England
Anselm was one of the most important Christian thinkers of the eleventh century. Anselm is the most important Christian theologian in the West between Augustine and Thomas Aquinas. He is most famous in philosophy for having discovered and articulated the so-called "ontological argument" and in theology for his doctrine of the atonement. However, his work extends to many other important philosophical and theological matters, among which are: understanding the aspects and the unity of the divine nature; the extent of our possible knowledge and understanding of the divine nature; the complex nature of the will and its involvement in free choice; the interworkings of human willing and action and divine grace; the natures of truth and justice; the natures and origins of virtues and vices; the nature of evil as negation or privation; and the condition and implications of original sin.
Prayer.....
O Lord, we bring before you the distress and dangers of peoples and nations, the pleas of the imprisoned and the captive, the sorrows of the grief-stricken, the needs of the refugee, the impotence of the weak, the weariness of the despondent, and the diminishments of the aging. O Lord, stay close to all of them. Amen. - prayer for all classes of people by St. Anselm
St. Anselm of Canterbury, pray for us!