View SCRC News and Events | All Charismatic Events | Reserve or Register for an Event
"100th Anniversary of the Apparitions of Our Lady of Fatima" Event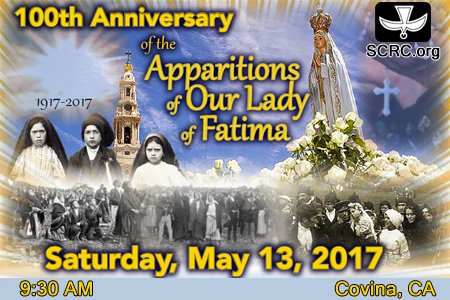 Sat, May 13 2017
9:30 am to 4:00 pm
Celebrate the Fatima Children's Canonization!
Jacinta & Francisco Marto will be proclaimed official Saints on the Church's calendar
by Pope Francis on the exact 100th Anniversary of Our Lady's first Fatima apparition!

Join Frs. Bob Garon, George Reynolds, Jerry Thompson and SCRC President, Dominic Berardino for a spirit-filled local event commemorating this historic day!

A special relic of Jacinta will be on display.
Featuring:
- Fr. Bob Garon, Pastor, St. Didacus, Sylmar, CA

- Dominic Berardino, President, SCRC, Burbank, CA

- Fr. George Reynolds, Assoc. Pastor, St. Cornelius, Long Beach, CA

- Fr. Jerry Thompson, Assoc. Pastor, St. Francis Xavier, Pico Rivera, CA

Includes:
- Rosary
- Talks on Fatima
- Mass
Registration By May 8: $20
Thereafter: $25
Catered chicken lunch is guaranteed for those registered before 5/8/17.
If you plan to register at the door, please call or email for lunch count.
(Registration is the same price, with or without lunch.)