View SCRC News and Events | All Charismatic Events | Reserve or Register for an Event
God Is Good! - Festa Italiano: Feasting on the Love of God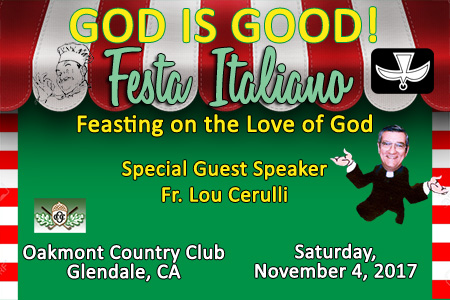 Sat, Nov 4 2017
11:00 am to 2:00 pm
SCRC invites you to a very special Banquet to benefit the ministry outreach of SCRC.

With Special Guest Speaker Fr. Lou Cerulli
• Social Hour
• Luncheon
• Silent Auction
• Lovely Raffle Gift Baskets
• $1000 Grand Prize Raffle Drawing
Special Guest Speaker Fr. Lou Cerulli:

Fr. Lou is from Montreal, Canada. After years of working as a consultant conducting seminars on management and communication skills, Fr. Lou entered the seminary as a late vocation in 1985 and was ordained in 1991. He is very active in ministering internationally through retreats, workshops, days of reflection, speaking engagements, and healing services. One of Fr. Lou's desires is to share his experiences and love of the Eucharist with emphasis on the healing power of the Sacraments.
Luncheon Tickets $75 each. Tables for 8 ($600) and 10 ($750) are available.
Contact SCRC to find out more about the $1000 Grand Prize Raffle
Dress code required: Business attire.
Please, no jeans or khakis.