View SCRC News and Events | All Charismatic Events | Reserve or Register for an Event
My Soul Magnifies the Lord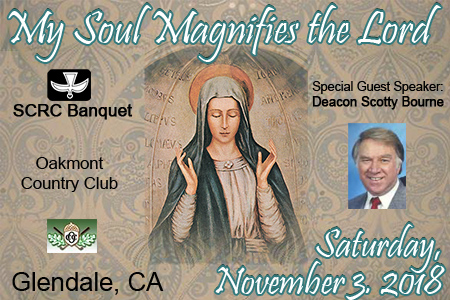 Sat, Nov 3 2018
11:00 am to 2:00 pm
SCRC invites you to a very special Banquet to benefit SCRC's ministry outreach with Special Guest Speaker Deacon Scotty Bourne
• Social Hour
• Luncheon
• Exquisite Raffle Gift Baskets
• Silent Auction
• $1000 Grand Prize Raffle Drawing
Special Guest Speaker Deacon Scotty Bourne:

Ronald "Scotty" Bourne is a Scot, born and bred; a devoted husband; a wild animal trainer; a movie production mgr. and producer; author and, most notably to his friends, a loving and compassionate deacon. Although retired, he is still an active part of St. Francis Church in Bakersfield. Scotty and his wife, Joi, met at SCRC in 1979 and married in 1981. In 1982, they founded Follow Me Ministries to answer the desperate need for a Catholic voice in the media.
Dress code required: Business attire.
Please, no jeans or khakis.
Luncheon Tickets $75 each. Tables for 8 ($600) and 10 ($750) are available.
Contact SCRC to find out more about the $1000 Grand Prize Raffle