View SCRC News and Events | All Charismatic Events | Reserve or Register for an Event
Generational Healing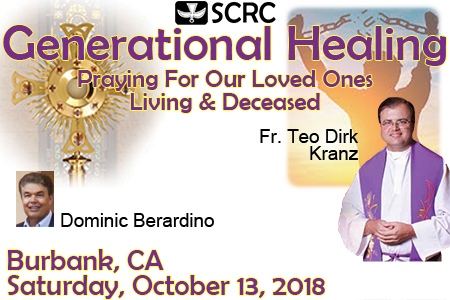 Sat, Oct 13 2018
9:00 am to 3:00 pm
Praying for Our Loved Ones, Living and Deceased
• Are you experiencing the "sinful weight" of your ancestors?

• How do the negative spiritual consequences of past generations impact us in the present?

• Seeking the mercy and power of God to heal our family trees.

• Mass and prayer the for healing of generations.


Fr. Teo Dirk Kranz
Founder and President,
Fundacion San Miguel
Archangel Healing Ministry
Colombia

MC for the Day:
Dominic Berardino
President, SCRC - Burbank, CA
GENOGRAM:
Preparing your own personal genogram will help you pray more specifically for your family members/immediate ancestry. A blank genogram will be mailed to all who pre-register before October 8.
You can download your Genogram by clicking here.
Bring your completed genogram to the conference.
MASS FOR GENERATIONAL HEALING:
A Special Mass will be offered for all living and deceased loved ones. Your genogram will be placed on the altar.
PRAYER WALL:
A prayer wall will be constructed with pictures of your deceased family members and friends to be prominently placed near the altar during the Eucharist being offered for them. Bring copies or reproductions of family portraits, and/or funeral mass cards. (Please do not bring originals in case they are lost or damaged.)
Registration Cost by October 8: $25
Thereafter: $30
PARKING INFO:
Due to other events taking place at the same time, access to parking will be limited.
We recommend that you try to park in the parking lot (basketball courts) on the 500 block of Orange Grove Ave, which you can see by
clicking the map at this link
. Parking will also be available on the street.
Please do not park at the public library. Carpooling is highly recommended.
You are also urged to bring your own lunch and beverage with you as to not risk losing your parking space during the event.