View SCRC News and Events | All Charismatic Events | Reserve or Register for an Event
2019 Priest Gathering on Healing and Deliverance Ministry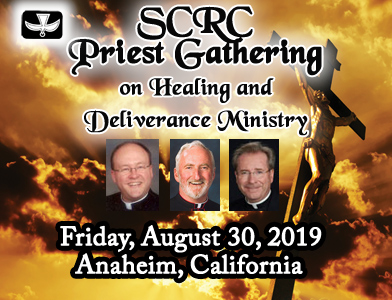 Fri, Aug 30 2019
1:00 pm to 5:00 pm
A Special Free Gathering Exclusively for Catholic Priests
This gathering, focusing on healing, deliverance, and exorcism ministry will help Catholic priests with their ministries in these areas.

The event will expand and build upon past SCRC Conventions and Priest Gatherings while also providing useful information to priests less familiar with this type of ministry.

This event is free of charge. All Catholic priests in good standing are encouraged to attend.
Moderator
Bishop David O'Connell
San Gabriel Pastoral Region
Archdiocese of Los Angeles

Topics:

"Prayers, Blessings, and Priestly Identity"
Fr. Jeffrey Grob, JCD
Judicial Vicar, Vicar for Canonical Affairs, Exorcist Archdiocese of Chicago, Illinois

"Priestly Authority as a Weapon Against Satan"
Fr. Gary Thomas
Exorcist,
Principal subject of the book and major motion picture, "The Rite",
Diocese of San Jose, CA
RSVP/Register Below or by calling SCRC at (818) 771-1361
Registration is
free
for this special event. Parking fee is imposed by the City of Anaheim. Open only to Catholic priests in good standing.
Registration for this event is separate from the weekend Convention. To attend the Convention a separate registration is required.
For priests wishing to obtain faculties to celebrate mass or hear confessions in the Diocese of Orange, click here:
Priest Faculties Form