View SCRC News and Events | All Charismatic Events | Reserve or Register for an Event
God Calling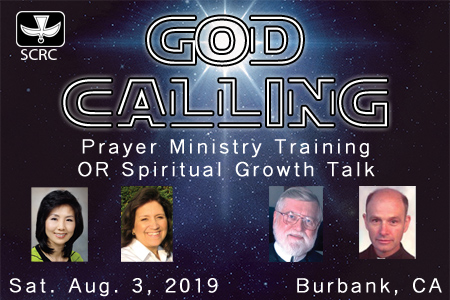 Sat, Aug 3 2019
9:30 am to 1:00 pm
A Free Two-Part Event and Mass with Prayer Ministry
This event features two separate breakout rooms.

GROUP 1:
PRAYER MINISTRY TRAINING:
"Praying for Others"

Dr. Elizabeth Kim
Psychologist,
Director, Brain Fitness Center
LA & Orange Counties

Maria Velasquez
LFMT, Montrose, CA


GROUP 2:
SPIRITUAL GROWTH TALK:
God's Call and Purpose for Your Life"

Fr. Bill Adams, CSsR
Redemptorist Parish Ministry
Whittier, CA
Mass with Fr. BilL Delaney, SJ
Prayer Ministry available after Mass

Uplifting and Joyous Praise & Worship by Heart of Jesus Music Ministry!

Free Admission. All Are Welcome!

In conjunction with the SCRC Convention Volunteer Gathering.
Volunteer Orientation: 12:20pm
Prayer Team Ministry Training:
During the morning of August 3, at the "God Calling" event, Dr. Elizabeth Kim and Maria Velasquez, LMFT will conduct a one-hour training course for both potential prayer ministers and pre-existing prayer team members. Many people have been tremendously helped by SCRC prayer teams through the years. Prayer group members and serious believers who pray regularly will greatly benefit from SCRC's tested prayer ministry guidelines.
If you have a genuine concern for others, the Spirit of God may be calling you to be a vessel of prayer. First, you need to meet some basic requirements.
Basic prerequisites to be on a SCRC prayer team are:
1. Be a person who prays daily.
2. Have attended the SCRC Convention at least once.
3. Be active and in good relationship with one's own church community.
4. Be willing to receive instruction and to understand SCRC guidelines
before participating on a prayer team.
5. Have experienced the grace of Baptism in the Holy Spirit.