View SCRC News and Events | All Charismatic Events | Reserve or Register for an Event
The Anointing Continues...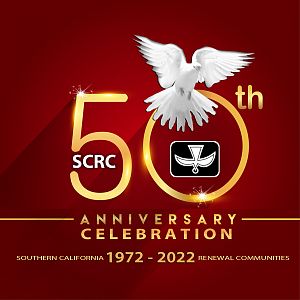 Sat, Aug 27 2022
12:00 pm to 6:00 pm
The Anointing Continues...
50th Anniversary Celebration!
Vibrant Praise & Worship * Inspiring Teachings
Healing Service * Includes Sunday Vigil Mass
Prayer Ministry * Joyfully Reconnect with Friends
Catholic Book and Gift Tables

Special Highlights:
Healing Service Led by Fr. Michael Barry, SSCC & Dr. Elizabeth Kim

Exposition of the Blessed Sacrament

Presentations and Healing Prayer for:

Grief & Loss - Fear - Hurts & Woundedness - Anxiety & Depression - Anger, Hatred, Irritability - Bad Habits & Addictions

Laying On of Hands - Blessing Prayer of Protection & Provision
Speakers:
Fr. Michael Barry, SSCC
Dr. Elizabeth Kim
Fr. Marinello Saguin
Fr. Ethan Southard
Maria Velasquez, LMFT
Fr. Ismael Robles
Marianne Soratorio-Dyogi
Dominic Berardino
Fr. Bill Delaney, SJ
Deacon Milt Rosenberg
12:00pm - 4:30pm
Praise & Worship with Heart of Jesus Music Ministry, Inspiring Presentations, Healing Service with Fr. Michael Barry, SSCC & Dr. Elizabeth Kim, Prayer Ministry and more!
5:00pm - 6:00pm
parish Vigil Mass with Fr. Marinello Saguin