February 18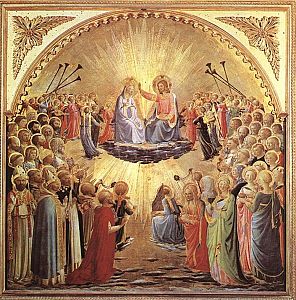 b. 1387, in Vicchio di Mugello, near Florence, Italy. Died, 1455.
Patron of Artists
Joined the Dominicans in Fiesole, Italy in 1407, taking the name Fra Giovanna. He was taught to illuminate missals and manuscripts, and immediately exhibited a natural talent as an artist. Today his works can be seen in the Italian cities Cortona, Fiesole, Florence, and in the Vatican. His dedication to religious art earned him the title Angelico.
Prayer to Blessed Fra Angelico....
Blessed Fra Angelico,
you created works of beauty
which have inspired countless souls
into a closer union with God.
By your intercession, may God
raise up artists and craftsmen
to beautify His holy dwellings
and all churches to elevate
human hearts and minds to a
more profound relationship
with the Almighty. Amen.
Photo: The Coronation of the Virgin by Blessed Fra Angelico (1434-1435)
Galleria degli Uffizi, Florence Italy