Saint of the Day | Testimonies | Watch Videos and Hear Talks | Renewal Articles
Experience Catholic Charismatic Renewal
For almost four decades, hundreds of thousands of people have experienced Catholic Charismatic Renewal through the SCRC Ministry.  On SCRC.org, you can learn and experience Renewal yourself, or read testimonies of those who have been touched by the Renewal in their own lives.

Pope St. Sixtus III - March 28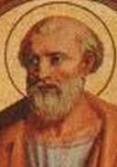 Papal Ascension, 432. Died, 440.
Chosen 44th Pope in 432. Approved the results of the Council of Ephesus. Corresponded extensively with Saint Augustine of Hippo. Fought Nestorianism and Pelagianism. Restored several Roman basilicas including Saint Peter's and Saint John Lateran. He built the Basilica of Santa Maria Maggiore, dedicated to Mary the Mother of God. Defended the supremacy of the...
Read More About Pope St. Sixtus III

Other Ways to Experience Charismatic Renewal
Testimonies
Click a picture to read

Inspire Others With Your Testimony