Saint of the Day | Testimonies | Watch Videos and Hear Talks | Renewal Articles
Experience Catholic Charismatic Renewal
For almost four decades, hundreds of thousands of people have experienced Catholic Charismatic Renewal through the SCRC Ministry.  On SCRC.org, you can learn and experience Renewal yourself, or read testimonies of those who have been touched by the Renewal in their own lives.

St. Mary Magdalen de Pazzi - May 25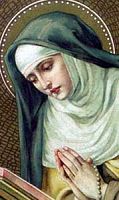 Born: 1566 in Florence, Italy
Died: 1607
Catherine received a religious upbringing. She was initially sent to a convent at age 14, but was taken back home by her family who opposed her religious vocation and wanted her to marry well. They eventually gave in, and Catherine became a Carmelite of the Ancient Observance at 16, taking the name Sister Mary Magdalen. Mystic. Led a hidden life of...
Read More About St. Mary Magdalen de Pazzi

Other Ways to Experience Charismatic Renewal
Testimonies
Click a picture to read

Inspire Others With Your Testimony