Saint of the Day | Testimonies | Watch Videos and Hear Talks | Renewal Articles
Experience Catholic Charismatic Renewal
For almost four decades, hundreds of thousands of people have experienced Catholic Charismatic Renewal through the SCRC Ministry.  On SCRC.org, you can learn and experience Renewal yourself, or read testimonies of those who have been touched by the Renewal in their own lives.

St. Miguel Febres Cordero Munoz - February 9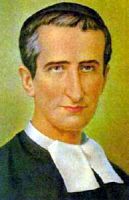 Born: 1854 at Cuenca, Ecuador
Died: Feb. 9, 1910 of pneumonia at Premia del Mar, Spain, and buried there. His grave was disturbed during the Spanish Civil War, and his body found incorrupt.
Born to a prominent family. Born with an unknown disability, he was unable to stand until age five when he received a vision of Our Lady. At age eight he was miraculously protected from being mauled by...
Read More About St. Miguel Febres Cordero Munoz

Other Ways to Experience Charismatic Renewal
Testimonies
Click a picture to read

Inspire Others With Your Testimony