Saint of the Day | Testimonies | Watch Videos and Hear Talks | Renewal Articles
Experience Catholic Charismatic Renewal
For almost four decades, hundreds of thousands of people have experienced Catholic Charismatic Renewal through the SCRC Ministry.  On SCRC.org, you can learn and experience Renewal yourself, or read testimonies of those who have been touched by the Renewal in their own lives.

St. Ursula Ledochowska - May 29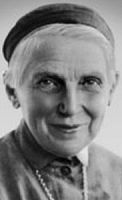 1865-Austria
1939-Rome, Italy
Born Julia Maria Ledochowska, seh was an Austrian-born religious leader. She became a Roman Catholic nun and founded the Congregation of the Ursulines of the Agonizing Heart of Jesus. She is a prominent member of the Ledochowska family.
"Holiness does not demand anything great, beyond the ability of the person. It depends on God's Love; every daily act can be...
Read More About St. Ursula Ledochowska

Other Ways to Experience Charismatic Renewal
Testimonies
Click a picture to read

Inspire Others With Your Testimony