Saint of the Day | Testimonies | Watch Videos and Hear Talks | Renewal Articles
Experience Catholic Charismatic Renewal
For almost four decades, hundreds of thousands of people have experienced Catholic Charismatic Renewal through the SCRC Ministry.  On SCRC.org, you can learn and experience Renewal yourself, or read testimonies of those who have been touched by the Renewal in their own lives.

Blessed Mary Restituta Kafka - March 30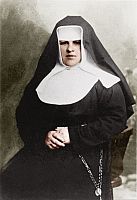 Sixth daughter of a shoemaker. Grew up in Vienna, Austria. Worked as a sales clerk. Nurse. Joined the Franciscan Sisters of Christian Charity (Hartmannschwestern) in 1914, taking the name Restituta after an early Church martyr. Worked for twenty years as a surgical nurse, beginning in 1919. Known as a protector of the poor and oppressed. Vocal opponent of the Nazis after Anschluss, the German...
Read More About Blessed Mary Restituta Kafka

Other Ways to Experience Charismatic Renewal
Testimonies
Click a picture to read

Inspire Others With Your Testimony