Saint of the Day | Testimonies | Watch Videos and Hear Talks | Renewal Articles
Experience Catholic Charismatic Renewal
For almost four decades, hundreds of thousands of people have experienced Catholic Charismatic Renewal through the SCRC Ministry.  On SCRC.org, you can learn and experience Renewal yourself, or read testimonies of those who have been touched by the Renewal in their own lives.

Blessed Brother Giles of Assisi - April 23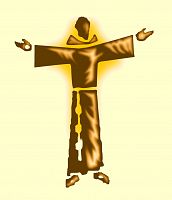 Died 1262 at Perugia, Italy.
Friend and third follower of St. Francis of Assisi. Sent as a missionary to Muslims in Tunis, but had no success. Upon his return, he lived at various places in Italy where for the rest of his days he was in demand as a spiritual advisor; his "Sayings" have been printed in many editions. Assigned later to the hermitage of Fabriano where he led a life of quiet...
Read More About Blessed Brother Giles of Assisi

Other Ways to Experience Charismatic Renewal
Testimonies
Click a picture to read

Inspire Others With Your Testimony