Saint of the Day | Testimonies | Watch Videos and Hear Talks | Renewal Articles
Experience Catholic Charismatic Renewal
For almost four decades, hundreds of thousands of people have experienced Catholic Charismatic Renewal through the SCRC Ministry.  On SCRC.org, you can learn and experience Renewal yourself, or read testimonies of those who have been touched by the Renewal in their own lives.

St. Wolfgang of Ratisbon - October 31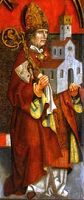 Born in Germany.
d. 994
Educated by Benedictines at Reichenau, Switzerland. Spiritual student of Saint Romuald. Benedictine monk at Einsiedeln abbey, Switzerland in 964. Teacher; director of the abbey school. Abbey prior in 970. Evangelized the Magyars in modern Hungary. Missionary to Pannonia. Priest. Bishop of Ratisbon (modern Regensberg, Germany) in 972. Reformed clerical discipline and...
Read More About St. Wolfgang of Ratisbon

Other Ways to Experience Charismatic Renewal
Testimonies
Click a picture to read

Inspire Others With Your Testimony