Saint of the Day | Testimonies | Watch Videos and Hear Talks | Renewal Articles
Experience Catholic Charismatic Renewal
For almost four decades, hundreds of thousands of people have experienced Catholic Charismatic Renewal through the SCRC Ministry.  On SCRC.org, you can learn and experience Renewal yourself, or read testimonies of those who have been touched by the Renewal in their own lives.

Independence Day - July 4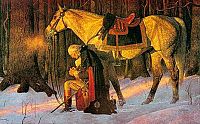 GOD BLESS THE UNITED STATES OF AMERICA!
George Washington's Prayer for the United States of America
ALMIGHTY GOD; we make our earnest prayer that Thou wilt keep the United States in Thy holy protection, that thou wilt incline the hearts of the citizens to cultivate a spirit of subordination and obedience to government; and entertain a brotherly affection and love for one another and for...
Read More About Independence Day

Other Ways to Experience Charismatic Renewal
Testimonies
Click a picture to read

Inspire Others With Your Testimony