Saint of the Day | Testimonies | Watch Videos and Hear Talks | Renewal Articles
Experience Catholic Charismatic Renewal
For almost four decades, hundreds of thousands of people have experienced Catholic Charismatic Renewal through the SCRC Ministry.  On SCRC.org, you can learn and experience Renewal yourself, or read testimonies of those who have been touched by the Renewal in their own lives.

St. John Baptist de Rossi - May 23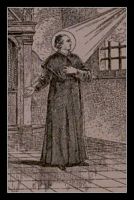 1698-1764
John Baptist de Rossi was born in a village near Genoa, Italy to Charles de Rossi and Frances Anfossi. He was one of four children and his family loved him. They were proud when a wealthy couple visiting their town offered to educate him. His parents knew the couple and trusted them.
John was happy to be able to go to their house in Genoa because he could attend school. He then...
Read More About St. John Baptist de Rossi

Other Ways to Experience Charismatic Renewal
Testimonies
Click a picture to read

Inspire Others With Your Testimony