Saint of the Day | Testimonies | Watch Videos and Hear Talks | Renewal Articles
Experience Catholic Charismatic Renewal
For almost four decades, hundreds of thousands of people have experienced Catholic Charismatic Renewal through the SCRC Ministry.  On SCRC.org, you can learn and experience Renewal yourself, or read testimonies of those who have been touched by the Renewal in their own lives.

Blessed Maria Fortunata Viti - November 20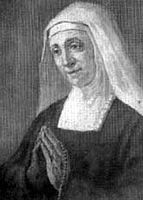 Italian.
1827-1922
Daughter of Luigi Viti, a gambler and heavy drinker, and Anna Bono, who died when Anna was fourteen. Raised her eight siblings after her mother's death, often working as a domestic servant to support them. Joined the Benedictines at the San Maria de'Franconi monastery in Veroli, Italy on 21 March 1851 at age 24, taking the name Sister Maria Fortunata. She was over 70 years...
Read More About Blessed Maria Fortunata Viti

Other Ways to Experience Charismatic Renewal
Testimonies
Click a picture to read

Inspire Others With Your Testimony