Saint of the Day | Testimonies | Watch Videos and Hear Talks | Renewal Articles
Experience Catholic Charismatic Renewal
For almost four decades, hundreds of thousands of people have experienced Catholic Charismatic Renewal through the SCRC Ministry.  On SCRC.org, you can learn and experience Renewal yourself, or read testimonies of those who have been touched by the Renewal in their own lives.

St. John Berchmans - November 26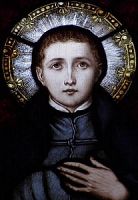 1599-1621, (Patron of Altar Boys)
Son of a shoemaker, and one of five children, three of whom entered religious life. John had great devotion to his position as an altar boy. He spent much of his time caring for his mother, who was in poor health. Jesuit noviate in 1616, deciding to become a Jesuit after reading the life of Saint Aloysius Gonzaga. Student at the Jesuit College at Malines,...
Read More About St. John Berchmans

Other Ways to Experience Charismatic Renewal
Testimonies
Click a picture to read

Inspire Others With Your Testimony