Saint of the Day | Testimonies | Watch Videos and Hear Talks | Renewal Articles
Experience Catholic Charismatic Renewal
For almost four decades, hundreds of thousands of people have experienced Catholic Charismatic Renewal through the SCRC Ministry.  On SCRC.org, you can learn and experience Renewal yourself, or read testimonies of those who have been touched by the Renewal in their own lives.

St. Rose of Lima - August 23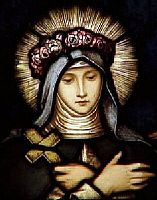 1586-1617
Born to Spanish immigrants to the New World. A beautiful girl and devoted daughter, she was so devoted to her vow of chastity that she used pepper and lye to ruin her complexion so she would not be attractive. Lived and meditated in a garden, raising vegetables and making embroidered items to sell to support her family and help the other poor. Dominican tertiary in 1606. Mystic....
Read More About St. Rose of Lima

Other Ways to Experience Charismatic Renewal
Testimonies
Click a picture to read

Inspire Others With Your Testimony