Saint of the Day | Testimonies | Watch Videos and Hear Talks | Renewal Articles
Experience Catholic Charismatic Renewal
For almost four decades, hundreds of thousands of people have experienced Catholic Charismatic Renewal through the SCRC Ministry.  On SCRC.org, you can learn and experience Renewal yourself, or read testimonies of those who have been touched by the Renewal in their own lives.

Blessed Narcisa de Jesus Martillo Moran - August 30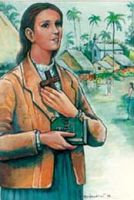 1832 - 1869
Born in Ecuador. Died in Lima, Peru
Daughter of Pedro Martillo Mosquera and Josefina Moran. Her people were farmers, and her parents died when she was still a child. She moved to Guayaquil for the next 15 years she worked as a seamstress to raise her younger siblings, living a single life, helping those even poorer than herself when she could, and spending her time in prayer. In...
Read More About Blessed Narcisa de Jesus Martillo Moran

Other Ways to Experience Charismatic Renewal
Testimonies
Click a picture to read

Inspire Others With Your Testimony