Saint of the Day | Testimonies | Watch Videos and Hear Talks | Renewal Articles
Experience Catholic Charismatic Renewal
For almost four decades, hundreds of thousands of people have experienced Catholic Charismatic Renewal through the SCRC Ministry.  On SCRC.org, you can learn and experience Renewal yourself, or read testimonies of those who have been touched by the Renewal in their own lives.

Feast of the Humility of the Blessed Virgin Mary - July 17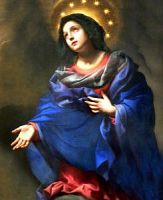 May we, O Lord, be cleansed of every stain of our sins: and by the intercession of the glorious and blessed Mary ever-Virgin, may we be led to the kingdom of heaven by the way of humility. Amen.
"O Mary, conceived without sin, pray for us who have recourse to thee."
"The most powerful weapon to conquer the devil is humility. For, as he does not know at all how to employ it, neither does...
Read More About Feast of the Humility of the Blessed Virgin Mary

Other Ways to Experience Charismatic Renewal
Testimonies
Click a picture to read

Inspire Others With Your Testimony