Saint of the Day | Testimonies | Watch Videos and Hear Talks | Renewal Articles
Experience Catholic Charismatic Renewal
For almost four decades, hundreds of thousands of people have experienced Catholic Charismatic Renewal through the SCRC Ministry.  On SCRC.org, you can learn and experience Renewal yourself, or read testimonies of those who have been touched by the Renewal in their own lives.

St. Jose Maria Rubio y Peralta - May 2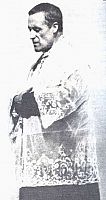 Spanish. 1864-1929.
Canonized, May 4, 2003 by Pope John Paul II
One of 12 children born to a farm family; six of his siblings died in childhood. Educated in Almeria, Spain. Entered the diocesan seminary in 1876, and the Granada seminary in 1878. Ordained on Sept. 23, 1887.
Parish priest in Chinchon and Estremera. For nearly 20 years he cared for an elderly brother priest. Synodal examiner...
Read More About St. Jose Maria Rubio y Peralta

Other Ways to Experience Charismatic Renewal
Testimonies
Click a picture to read

Inspire Others With Your Testimony