Saint of the Day | Testimonies | Watch Videos and Hear Talks | Renewal Articles
Experience Catholic Charismatic Renewal
For almost four decades, hundreds of thousands of people have experienced Catholic Charismatic Renewal through the SCRC Ministry.  On SCRC.org, you can learn and experience Renewal yourself, or read testimonies of those who have been touched by the Renewal in their own lives.

St. Marie Eugenie de Jesus - March 10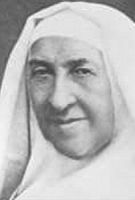 1817-1898, France.
Raised in an educated and intellectual family with no faith, but who apparently went through some of the motions since she received her first Communion on Christmas 1829 at age twelve. She had a conversion experience, came to the faith and felt a call to religious life by hearing the Lenten sermons of the Dominican Henri Lacordaire at the Cathedral of Notre Dame in Paris,...
Read More About St. Marie Eugenie de Jesus

Other Ways to Experience Charismatic Renewal
Testimonies
Click a picture to read

Inspire Others With Your Testimony