Saint of the Day | Testimonies | Watch Videos and Hear Talks | Renewal Articles
Experience Catholic Charismatic Renewal
For almost four decades, hundreds of thousands of people have experienced Catholic Charismatic Renewal through the SCRC Ministry.  On SCRC.org, you can learn and experience Renewal yourself, or read testimonies of those who have been touched by the Renewal in their own lives.

Our Lady of Sorrows - September 15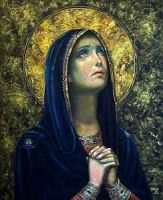 Names by which the Blessed Virgin Mary is referred to in relation to sorrows in her life:
The Prophecy of Simeon over the Infant Jesus (Luke 2:34)
The Flight into Egypt of the Holy Family (Matthew 2:13)
The Loss of the Child Jesus for Three Days (Luke 2:43)
The Meeting of Jesus and Mary along the Way of the Cross (Luke 23:26)
The Crucifixion, where Mary stands at...
Read More About Our Lady of Sorrows

Other Ways to Experience Charismatic Renewal
Testimonies
Click a picture to read

Inspire Others With Your Testimony