Saint of the Day | Testimonies | Watch Videos and Hear Talks | Renewal Articles
Experience Catholic Charismatic Renewal
For almost four decades, hundreds of thousands of people have experienced Catholic Charismatic Renewal through the SCRC Ministry.  On SCRC.org, you can learn and experience Renewal yourself, or read testimonies of those who have been touched by the Renewal in their own lives.

Sts. Cosmas and Damian - September 26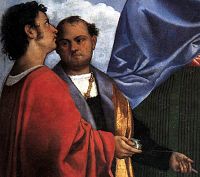 Sts. Cosmas and Damian were brothers, born in Arabia, who had become eminent for their skill in the science of medicine. Being Christians, they were filled with the spirit of charity and never took money for their services. At Egaea in Cilicia, where they lived, they enjoyed the highest esteem of the people. When the persecution under Diocletian broke out, their very prominence rendered them...
Read More About Sts. Cosmas and Damian

Other Ways to Experience Charismatic Renewal
Testimonies
Click a picture to read

Inspire Others With Your Testimony