Saint of the Day | Testimonies | Watch Videos and Hear Talks | Renewal Articles
Experience Catholic Charismatic Renewal
For almost four decades, hundreds of thousands of people have experienced Catholic Charismatic Renewal through the SCRC Ministry.  On SCRC.org, you can learn and experience Renewal yourself, or read testimonies of those who have been touched by the Renewal in their own lives.

St. Juniper (Brother Juniper) - January 29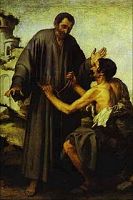 Died 1258.
Franciscan, received into the order by Francis of Assisi himself. Established Franciscan missions is several locations.
Arriving in Rome after a long journey, Juniper encountered people who had heard of his sanctity, and had come to see him. Alarmed at this reception, Juniper escaped to a nearby seesaw where he played with the children till the sightseers left disgusted; he then...
Read More About St. Juniper (Brother Juniper)

Other Ways to Experience Charismatic Renewal
Testimonies
Click a picture to read

Inspire Others With Your Testimony