Saint of the Day | Testimonies | Watch Videos and Hear Talks | Renewal Articles
Experience Catholic Charismatic Renewal
For almost four decades, hundreds of thousands of people have experienced Catholic Charismatic Renewal through the SCRC Ministry.  On SCRC.org, you can learn and experience Renewal yourself, or read testimonies of those who have been touched by the Renewal in their own lives.

St. James the Great - July 25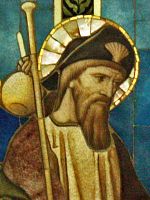 Son of Zebedee and Salome, brother of Saint John the Apostle, and may have been Jesus' cousin. He is called "the Greater" simply because he became an Apostle before Saint James the Lesser. Apparent disciple of Saint John the Baptist. Fisherman. He left everything when Christ called him to be a fisher of men. Was present during most of the recorded miracles of Christ. Preached in Samaria, Judea,...
Read More About St. James the Great

Other Ways to Experience Charismatic Renewal
Testimonies
Click a picture to read

Inspire Others With Your Testimony