Saint of the Day | Testimonies | Watch Videos and Hear Talks | Renewal Articles
Experience Catholic Charismatic Renewal
For almost four decades, hundreds of thousands of people have experienced Catholic Charismatic Renewal through the SCRC Ministry.  On SCRC.org, you can learn and experience Renewal yourself, or read testimonies of those who have been touched by the Renewal in their own lives.

St. Joseph Cafasso - June 23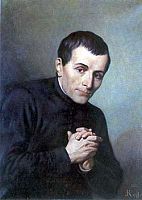 Italian. 1811-1860
Joseph Cafasso was born at Castelnuovo d'Asti in the Piedmont, Italy, of peasant parents. He studied at the seminary at Turin, and was ordained in 1833. He continued his theological studies at the seminary and university at Turin and then at the Institute of St. Franics, and despite a deformed spine, became a brilliant lecturer in moral theology there. He was a popular...
Read More About St. Joseph Cafasso

Other Ways to Experience Charismatic Renewal
Testimonies
Click a picture to read

Inspire Others With Your Testimony