Saint of the Day | Testimonies | Watch Videos and Hear Talks | Renewal Articles
Experience Catholic Charismatic Renewal
For almost four decades, hundreds of thousands of people have experienced Catholic Charismatic Renewal through the SCRC Ministry.  On SCRC.org, you can learn and experience Renewal yourself, or read testimonies of those who have been touched by the Renewal in their own lives.

St. Benedicta Cambiagio Frassinello - March 21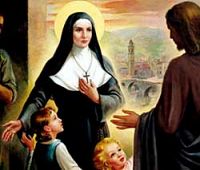 Italian. 1791-1858
Benedicta received the jewel of good christian formation from her devout parents. Always a devoted youngster, she received the gift of a profound mystical experience at age twenty, which left her with the desire to pursue a vocation as a religious. However, her parents preferred strongly that she marry. Benedicta bowed to their wishes, and married Giovanni Frassinello, in...
Read More About St. Benedicta Cambiagio Frassinello

Other Ways to Experience Charismatic Renewal
Testimonies
Click a picture to read

Inspire Others With Your Testimony