Saint of the Day | Testimonies | Watch Videos and Hear Talks | Renewal Articles
Experience Catholic Charismatic Renewal
For almost four decades, hundreds of thousands of people have experienced Catholic Charismatic Renewal through the SCRC Ministry.  On SCRC.org, you can learn and experience Renewal yourself, or read testimonies of those who have been touched by the Renewal in their own lives.

Blessed Maria Grazia Tarallo - July 27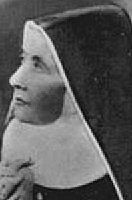 Italian. 1866-1912
(also known as Blessed Maria of the Passion of Our Lord Jesus Christ)
Born to Leopoldo Tarallo and Concetta Borriello, Maria was raised in a pious family, and received a Christian education. She made a private vow of virginity at age five in front of a statue of the Blessed Mother. Made her First Communion at age 7, and received Confirmation at 10. Feeling drawn to...
Read More About Blessed Maria Grazia Tarallo

Other Ways to Experience Charismatic Renewal
Testimonies
Click a picture to read

Inspire Others With Your Testimony