Saint of the Day | Testimonies | Watch Videos and Hear Talks | Renewal Articles
Experience Catholic Charismatic Renewal
For almost four decades, hundreds of thousands of people have experienced Catholic Charismatic Renewal through the SCRC Ministry.  On SCRC.org, you can learn and experience Renewal yourself, or read testimonies of those who have been touched by the Renewal in their own lives.

St. Francesco Fasani - November 27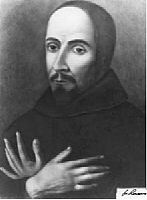 Italian.
1681-1742
A pious child. Entered the Conventual Franciscan order in 1695, taking the name Francis. Ordained in 1705. Taught philosophy to younger friars, served as guardian of his friary, provincial of the order, master of novices, and finally pastor in his hometown. Sought after confessor and preacher, a loyal friend of the poor, never hesitating to seek from benefactors what was...
Read More About St. Francesco Fasani

Other Ways to Experience Charismatic Renewal
Testimonies
Click a picture to read

Inspire Others With Your Testimony