Saint of the Day | Testimonies | Watch Videos and Hear Talks | Renewal Articles
Experience Catholic Charismatic Renewal
For almost four decades, hundreds of thousands of people have experienced Catholic Charismatic Renewal through the SCRC Ministry.  On SCRC.org, you can learn and experience Renewal yourself, or read testimonies of those who have been touched by the Renewal in their own lives.

Saint Pope John Paul II - October 22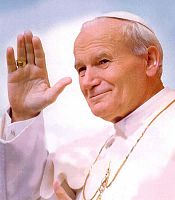 1920-2005
Born in Wadowice, Poland, Karol Jozef Wojtyla had lost his mother, father and older brother before his 21st birthday. Karol's promising academic career at Krakow's Jagiellonian University was cut short by the outbreak of World War II. While working in a quarry and a chemical factory, he enrolled in an "underground" seminary in Krakow. Ordained in 1946, he was immediately sent to Rome...
Read More About Saint Pope John Paul II

Other Ways to Experience Charismatic Renewal
Testimonies
Click a picture to read

Inspire Others With Your Testimony