Saint of the Day | Testimonies | Watch Videos and Hear Talks | Renewal Articles
Experience Catholic Charismatic Renewal
For almost four decades, hundreds of thousands of people have experienced Catholic Charismatic Renewal through the SCRC Ministry.  On SCRC.org, you can learn and experience Renewal yourself, or read testimonies of those who have been touched by the Renewal in their own lives.

St. Monica - August 27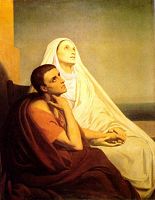 Born 322, North Africa (modern Algeria)
Died 387, Ostia, Italy
Raised in a Christian family, she was given in marriage to a bad-tempered, adulterous pagan named Patricius. Mother of two, one of whom is Saint Augustine of Hippo whose writings about her are the primary source of our information about Monica. She prayed constantly for the conversion of her husband (who converted on his death...
Read More About St. Monica

Other Ways to Experience Charismatic Renewal
Testimonies
Click a picture to read

Inspire Others With Your Testimony