Saint of the Day | Testimonies | Watch Videos and Hear Talks | Renewal Articles
Experience Catholic Charismatic Renewal
For almost four decades, hundreds of thousands of people have experienced Catholic Charismatic Renewal through the SCRC Ministry.  On SCRC.org, you can learn and experience Renewal yourself, or read testimonies of those who have been touched by the Renewal in their own lives.

St. Peter Chrysologus - July 30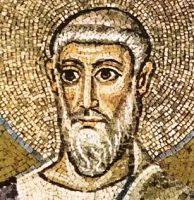 406-450
Adult convert to Christianity. Deacon. Priest. Bishop of Ravenna, Italy in 433. Fought paganism and the Monophysite heresy, enforced reforms, and built several churches and ornate altars in his see. Preacher with such language skills, he was given given the name Chrysologus, referring to his golden word. 176 of his sermons have survived; it is the strength of these beautiful...
Read More About St. Peter Chrysologus

Other Ways to Experience Charismatic Renewal
Testimonies
Click a picture to read

Inspire Others With Your Testimony