Saint of the Day | Testimonies | Watch Videos and Hear Talks | Renewal Articles
Experience Catholic Charismatic Renewal
For almost four decades, hundreds of thousands of people have experienced Catholic Charismatic Renewal through the SCRC Ministry.  On SCRC.org, you can learn and experience Renewal yourself, or read testimonies of those who have been touched by the Renewal in their own lives.

St. Gabriel Possenti - February 27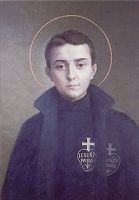 Born in Assisi, Italy, 1838
Died in Abruzzi, Italy of tuberculosis, 1862
One of thirteen children. After a youth devoted to the world and society, attending the theatre, chasing women and the hunt, he was led to the Passionist Order by Our Lady, making his profession on 22 September 1857. His life was not marked by great events or controversy, but given to prayer, sacrifice, and a devotion to...
Read More About St. Gabriel Possenti

Other Ways to Experience Charismatic Renewal
Testimonies
Click a picture to read

Inspire Others With Your Testimony