Saint of the Day | Testimonies | Watch Videos and Hear Talks | Renewal Articles
Experience Catholic Charismatic Renewal
For almost four decades, hundreds of thousands of people have experienced Catholic Charismatic Renewal through the SCRC Ministry.  On SCRC.org, you can learn and experience Renewal yourself, or read testimonies of those who have been touched by the Renewal in their own lives.

Feast of the Guardian Angels - October 2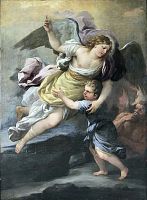 The term guardian angels refers to the belief that each person has an angel who is available to shepherd their soul through life, and help bring them to God.
Belief in the reality of angels, their mission as messengers of God, and man's interaction with them, goes back to the earliest times. Cherubim kept Adam and Eve from slipping back into Eden; angels saved Lot and helped destroy the...
Read More About Feast of the Guardian Angels

Other Ways to Experience Charismatic Renewal
Testimonies
Click a picture to read

Inspire Others With Your Testimony