Saint of the Day | Testimonies | Watch Videos and Hear Talks | Renewal Articles
Experience Catholic Charismatic Renewal
For almost four decades, hundreds of thousands of people have experienced Catholic Charismatic Renewal through the SCRC Ministry.  On SCRC.org, you can learn and experience Renewal yourself, or read testimonies of those who have been touched by the Renewal in their own lives.

St. Zita of Lucca - April 27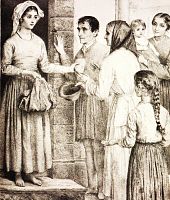 1218 - 1272, Lucca, Italy
Born to a very poor but pious family. At age twelve she became a domestic servant for the wealthy Fainelli family in Lucca, Italy, a position she kept all her life; she looked at it as a way to serve God. She often gave her own food, and sometimes that of her master, to those poorer than herself, which caused her to get in frequent trouble with her employers and the...
Read More About St. Zita of Lucca

Other Ways to Experience Charismatic Renewal
Testimonies
Click a picture to read

Inspire Others With Your Testimony