February 28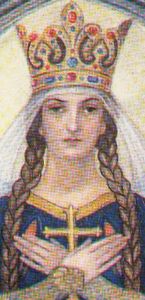 b. 1371-d. 1399, during childbirth. Miracles reported at her tomb.
Canonized by Pope John Paul II on June 8, 1997.
Youngest daughter of King Louis I of Hungary. Because she was great-niece to King Casimir III of Poland, she became Queen of Poland in 1382 upon her father's death. She was engaged to William, Duke of Austria, whom she loved, but broke off the relationship in order to marry Jagiello, non-Christian Prince of Lithuania, at age 13 for political reasons. She offered her misery in this marriage to Christ, and she eventually converted her husband; Jagiello was later known as King Landislaus II of Poland after the unification of the kingdoms, a union that lasted over 400 years. Noted for her charity to all, but especially the sick and poor, and for a revision of the laws to help the poor.
Loving God, may we care about other people like St. Hedwig did. Help us to share what we have and be generous to those who are sick and poor. May we look beyond our own lives to the needs of others. Help us to be caring and compassionate in Your Name. Amen.