March 2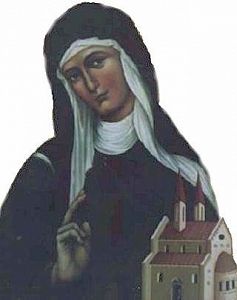 St. Agnes of Prague (Agnes of Bohemia)
1205-1282
Canonized by Pope John Paul II, November 12, 1989
She built a Franciscan hospital on land donated by her brother, King Wenceslaus I. She later built a Franciscan friary, and in 1234, Poor Clare convent of Saint Saviour in Prague (in modern Czech Republic) with the aid of five nuns sent by St. Claire of Assisi herself. Agnes entered the convent of Saint Saviour herself on Pentecost Sunday 1234, eventually became its abbess, and spent 50 years in the cloister. Agnes was always free with her wealth in service of the poor. She had the gifts of healing and prophecy, and was given to ecstasies. Though they never met, she and St. Claire of Assisi kept up an extensive correspondence for two decades, and some of the letters have survived to today.
First letter from St. Claire of Assisi to St. Agnes of Prague......
".....Therefore, most beloved sister, or should I say, Lady worthy of great respect:
because You are the spouse and the mother and the sister of my Lord Jesus
Christ, and have been adorned resplendently with the sign of inviolable virginity
and most holy poverty: Be strengthened in the holy service which You have
undertaken out of an ardent desire for the Poor Crucified, Who for the sake of all
of us took upon Himself the Passion of the Cross and delivered us from the
power of the Prince of Darkness to whom we were enslaved because of the
disobedience of our first parents, and so reconciled us to God the Father....."