March 4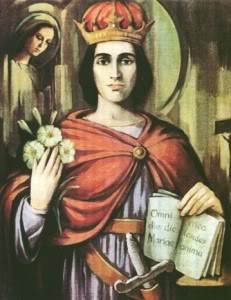 1458-1484
By the power of the Holy Spirit, Casimir burned with a sincere and unpretentious love for almighty God. So rich was his love and so abundantly did it fill his heart, that it flowed out from his inner spirit toward his fellow men. As a result, nothing was more pleasant, nothing more desirable for him, than to share his belongings, and even to dedicate and give his entire self to Christ's poor, to strangers, to the sick, to those in captivity, and to all who suffer. To widows, orphans, and the afflicted, he was not only a guardian and patron but a father, son, and brother.
He actively took up the cause of the needy and unfortunate and embraced it as his own; for this reason the people called him the patron of the poor. Though the son of a king and descendant of a noble line, he was never haughty in his conversation or dealings with anyone, no matter how humble or obscure.
He always preferred to be counted among the meek and poor of spirit, among those who are promised the kingdom of heaven, rather than among the famous and powerful men of this world. - from a biography of St. Casimir written by a contemporary
(Prayer attributed to St. Casimir)
Daily, daily
Sing to Mary
Sing, my soul, her praises due!
All her feasts,
Her actions worship
With heart's devotion true.