May 1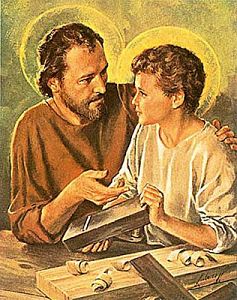 "What emanates from the figure of St. Joseph is faith. Joseph of Nazareth is a "just man" because he totally "lives by faith." He is holy because his faith is truly heroic. Sacred Scripture says little of him. It does not record even one word spoken by Joseph, the carpenter of Nazareth. And yet, even without words, he shows the depth of his faith, his greatness. St. Joseph is a man of great spirit. He is great in faith, not because he speaks his own words, but above all because he listens to the words of the Living God. He listens in silence. And his heart ceaselessly perseveres in the readiness to accept the Truth contained in the word of the Living God. We see how the word of the Living God penetrates deeply into the soul of that man, that just man. And we, do we know how to listen to the word of God? Do we know how to absorb it into the depths of our human personalities? Do we open our conscience in the presence of this word?" - Pope John Paul II from Daily Meditations
The beautiful prayer below, composed by Saint Pope John XXIII (1958-63), places all workers under the patronage of St. Joseph the Worker, and asks for his intercession so that we may regard our work as a means of growing in holiness.
Prayer to St. Joseph, as Patron of Workers.....
Blessed St. Joseph, patron of all working people, obtain for me the grace to labor in a spirit of penance for the atonement of my many sins. Help me to be conscientious in my work so that I may give as full a measure as I have received.
May I labor in a spirit of thankfulness and joy, ever mindful of all the gifts I have received from God that enable me to perform these tasks. Permit me to work in peace, patience, and moderation, keeping in mind the account I must one day give of time lost, talents unused, good omitted, and vanity of success, so fatal to the work of God. Glorious St. Joseph, may my labors be all for Jesus, all through Mary, and all after your holy example in life and in death. Amen.
St. Joseph the Worker, pray for us!