May 10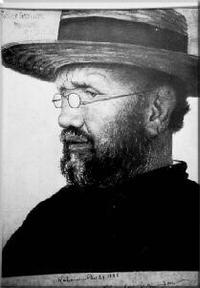 Born on a family farm at Tremeloo, Belgium in 1840.
Died in 1889 at Molokai, Hawaii from leprosy.
Son of a small farmer. Studied at the college at Braine-le-Comte, Belgium. Joined the Picpus Fathers in 1860, taking the name Damien. Seminarian in Paris, France. Volunteered for missionary work while still in seminary, and was sent to Hawaii. Ordained in Honolulu in 1864. Missionary on islands where his single parish was the size of all of his native Belgium. Resident priest in the leper colony on Molokai where for years he worked alone to minister to the patients' spiritual and medical needs. His work turned a wretched dump for the unwanted into a real community with the best treatment of the day, and patients who lived strong spiritual lives. He contracted leprosy in 1885, and though severely crippled by the disease, Father Damien worked until the end.
Prayer to St. Damien of Molokai....
St. Damien, brother on the journey,
Happy and generous missionary,
who loved the Gospel more than your life,
who for love of Jesus left your family,
your homeland, your security, your dreams,
Teach us to give our lives with a joy like yours,
to be in solidarity with the outcasts of the world,
to celebrate and contemplate the Eucharist
as the source of our commitment.
Help us to love to the very end
and, in the strength of the Spirit,
to persevere in compassion
for the poor and forgotten
so that we might be good disciples of Jesus and Mary.
Amen.
St. Damien of Molokai, pray for us!