May 19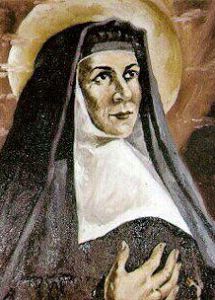 Born: 16 April 1783 in Barcelona, Spain
Died: 1854 of cholera
Beatified: 19 May 1940
Canonized: 12 April 1959 by Pope John XXIII
Married to the Spanish nobleman Theodore de Mas in 1799. Mother of nine children. Widowed in 1816. Founded the Institute of the Carmelite Sisters of Charity in 1826. The Institute spread through Catalonia with the mission of caring for the sick, and teaching children. Had a great devotion to the mystery of the Holy Trinity. Suffered a slow paralysis during the last four years of her life.
Prayer.....
Lord God,
you gave St Joachina de Vedruna to your Church
for the Christian education of youth
and the care of the sick.
May we follow her example,
and lovingly devote our lives
to serving you in our brothers and sisters.
Grant this through Christ, our Lord. Amen.
St. Joaquina, pray for us!