May 21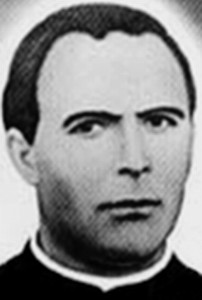 Born: 1877, Spain
Martyred: 1924, Brazil
Ordained in 1902 in the Archdiocese of Braga, Portugal. Transferred to the diocese of Frederico Westphalen, Brazil in 1913. Known as a concerned pastor to his flock, and for his social work in the region. While on a missionary journey, Fr. Emmanuel and his faithful acolyte, Adilo, were shot to death by revolutionaries.
Prayer...
"Bl. Emmanuel and Bl. Adilo, grant us your help, which we also recognize today as powerful, and offer us from Heaven your intercession at the throne of the Most High. May he turn his gaze upon our wretchedness and our needs, our conflicts and the hatred that devastates the human heart, oppresses the weak and stifles his grace!
May the Prince of Peace sustain the battle of his Church and descend among our ranks so that his Word may be triumphant, and may the Blessed Martyrs Emmanuel and Adilo intercede for us so that one day we may with them sing praise to the Lord, where Christ reigns in glory among the heavenly hosts!
The power and the glory are his, now and for ever. Amen!"
Blessed Emmanuel, pray for us!