May 31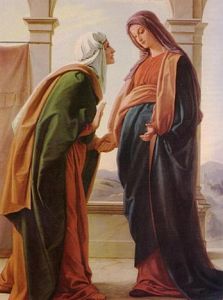 Like most feasts of Mary, it is closely connected with Jesus and his saving work. The more visible actors in the visitation drama (see Luke 1:39-45) are Mary and Elizabeth. However, Jesus and John the Baptist steal the scene in a hidden way. Jesus makes John leap with joy--the joy of messianic salvation. Elizabeth, in turn, is filled with the Holy Spirit and addresses words of praise to Mary--words that echo down through the ages.
It is helpful to recall that we do not have a journalist's account of this meeting. Rather, Luke, speaking for the Church, gives a prayerful poet's rendition of the scene. Elizabeth's praise of Mary as "the mother of my Lord" can be viewed as the earliest Church's devotion to Mary. As with all authentic devotion to Mary, Elizabeth's (the Church's) words first praise God for what God has done to Mary. Only secondly does she praise Mary for trusting God's words.
Then comes the Magnificat (Luke 1:46-55). Here Mary herself (like the Church) traces all her greatness to God.
Canticle of Mary....
My soul proclaims the greatness of the Lord,
My Spirit rejoices in God my Savior
For He has looked with favor on His lowly servant.
From this day all generations will call me blessed:
The Almighty has done great things for me,
And holy is His Name.
He has mercy on those who fear Him
In every generation.
He has shown the strength of His arm,
He has scattered the proud in their conceit.
He has cast down the mighty from their thrones,
And has lifted up the lowly.
He has filled the hungry with good things,
And the rich He has sent away empty.
He has come to the help of His servant Israel
For He has remembered His promise of mercy,
The promise He made to our fathers,
To Abraham and his children for ever.
Glory to the Father,
and to the Son,
and to the Holy Spirit.
As it was in the beginning.
is now, and will be forever. Amen.