June 9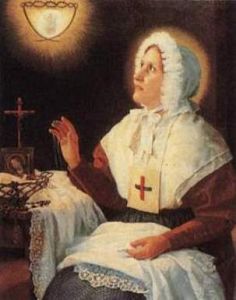 Italian. 1769-1837
Born at Siena, daughter of a druggist named Giannetti, whose business failed, she was brought to Rome and worked for a time as a domestic servant. In 1790 she married Dominic Taigi, a butler of the Chigi family in Rome, and lived the normal life of a married woman of the working class.
In the discharge of these humble duties and in the bringing up of her seven children, she attained a high degree of holiness. Endowed with many charismatic gifts, including prophecy, she had the word of knowledge and described future events. Her home was frequented by cardinals and other dignitaries who sought her counsel. She was beatified in 1920.
Prayer to the Blessed Mother....
Prostrate at thy feet, O great Queen of Heaven, we venerate you with the deepest reverence and we confess that you are the Daughter of the Father, the Mother of the Divine Word, the Spouse of the Holy Spirit. You are the storekeeper and the distributor of the Divine Mercies. For this reason, we call you Mother of Divine Compassion. Behold us here in affliction and anguish! Show us your true love. We beg you to ask the Holy Trinity, most fervently, to grant us the grace to conquer the devil and the world, and our evil passions; the efficacious grace that sanctifies the just, converts sinners, destroys heresies, enlightens infidels and brings all people to the true Faith. Obtain for us this great gift that all the world may form but one people united in the One True Church.
Mary, Mother of Holy Hope, pray for us!