July 22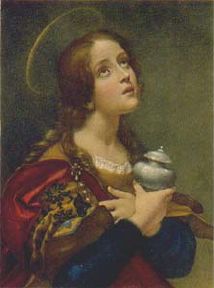 We have very little solid information about St. Mary, and both scholars and traditions differ on the interpretation of what we do know. From the New Testament, one can conclude that Mary was from the village of Magdala (on the shore of the Sea of Galilee). She was a friend and follower of Jesus. Filled with sorrow over her sin, she anointed Christ, washed his feet with her hair. He exorcised seven demons from her. She was visited by the Risen Christ.
Prayer......
Saint Mary Magdalene,
woman of many sins,
who by conversion
became the beloved of Jesus,
thank you for your witness
that Jesus forgives
through the miracle of love.
You, who already possess eternal happiness
in His glorious presence,
please intercede for me,
so that some day
I may share in the same everlasting joy. Amen.