July 24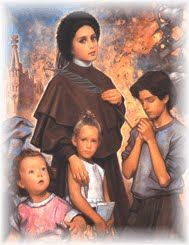 1880-1936
Martyr.
Beatified by Pope John Paul II in 1990.
Baptized on 7 March 1880, and made her First Holy Communion on 30 June 1890. Pious child who attended Mass nearly every day. Devoted student, a painter, and excelled in needlework. Joined the Society of Saint Teresa of Jesus in 1904 in Tortosa. Assigned to the motherhouse in Barcelona in 1920. On 19 July 1936 her community was forced by anti-Catholic government authorities to abandon their house and school. Mercedes was arrested and shot on 23 July 1936 for the crime of being a nun.
Prayer...
God, Father of infinite goodness, you gave Blessed Maria Mercedes Prat, the courage to bring to fullness in martyrdom her offering to you and to the Church. Grant us, through her intercession, the grace to be so firmly rooted in the love of Christ that nothing can ever separate us from this love. Grant this through our Lord Jesus Christ, your Son, Who lives and reigns with you and the Holy Spirit, One God, for ever and ever. Amen.