July 29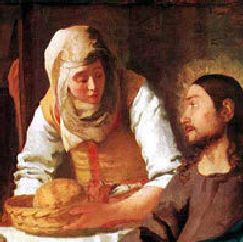 Sister of Saint Lazarus and Saint Mary of Bethany. Friend of Jesus, and hostess to him in her house.
- from a sermon by Saint Augustine.......
"Martha and Mary were sisters, related not only by blood but also by religious aspirations. They stayed close to our Lord and both served him harmoniously when he was among them. Martha welcomed him as travelers are welcomed. But in her case, the maidservant received her Lord, the creature her Creator, to serve him bodily food while she was to be fed by the Spirit. No one of you should say, "Blessed are they who have deserved to receive Christ into their homes!" Do not grieve or complain that you were born in a time when you can no longer see God in the flesh. He did not in fact take this privilege from you. As he says, "Whatever you have done to the least of my brothers, you did to me."
O blessed St. Martha, your faith led Jesus to proclaim, "I am the resurrection and the life"; and faith let you see beyond his humanity when you cried out, "Lord I believe that you are the Messiah, the Son of God." With firm hope you said, "I know that God will give you whatever you ask of him", and Jesus called your brother Lazarus back from the dead. With pure love for Jesus you welcomed him into your home.
Friend and servant of our Savior, I too am "troubled about many things". (mention your intentions) Pray for me that I may grow in faith, hope and love, and that Jesus, who sat at your table, will hear me and grant me a place at the banquet of eternal life. Amen.