August 5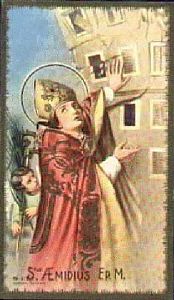 Italian. Beheaded 303.
Patron Against Earthquakes
Bishop of Ascoli Piceno, Italy. Very successful missionary to Trier, Germany. However, when he started smashing pagan idols, the non-converts revolted, and he had to flee to Rome for safety. When he returned to his mission, he was martyred by pagans before he could convert anyone else.
In 1703, a violent earthquake occurred in the Marche region of Italy but did not affect the city of Ascoli Piceno. The city's salvation was attributed to Emydius and he was thenceforth invoked against earthquakes.
God Our Father, You set the earth on its foundation. Keep us safe from the danger of earthquakes and let us always feel the presence of Your love. Through the intercession of St. Emydius, may we be secure in Your protection and serve You with grateful hearts. We ask this through our Lord Jesus Christ, Your Son, who lives and reigns with You and the Holy Spirit, one God forever and ever. Amen.