September 16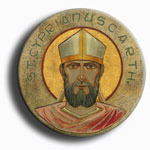 Bishop, Martyr and Doctor
190-258
Born to wealthy pagan parents. Taught rhetoric and literature. Adult convert in 246, taught the faith by Saint Caecilius of Carthage. Ordained in 247. Bishop of Carthage in 249. During the persecution of Decius, beginning in 250, Cyprian lived in hiding, covertly ministering to his flock; his enemies condemned him for being a coward and not standing up for his faith. As a writer he was second only in importance to Tertullian as a Latin Father of the Church. Friend of Saint Pontius. Involved in the great argument over whether apostates should be readmitted to the Church; Cyprian believed they should, but under stringent conditions. Supported Pope Saint Cornelius against the anti-pope Novatian. During the persecutions of Valerian he was exiled to Curubis in 257, brought back Carthage, and then martyred in 258. His name is in the Communicantes in the Canon of the Mass.
Prayer for Prisoners and Correction Officers...
Most gracious Father, bless with your special care all penitentiaries and homes of refuge. Look with pity on those who are housed there. Guide and protect those who have returned to the world. Grant all of them true contrition for past sins, and strengthen them in their good resolutions. Lead them along from grace to grace so that by the help of the Holy Spirit they may persevere in the ways of obedience and humility, and in the struggle against evil thoughts and desires. Grant the Holy Spirit to those engaged in teaching and training them, that they might have a right judgment with respect to those entrusted to them. May they labor for love of your with deep humility and singleness of purpose, purity of heart and life, and true zeal for your glory and the salvation of souls. Give them faith and love to sustain them in disappointment, love and patience toward those under them, and in your own good time crown their work with an eternal recompense. Amen.