February 12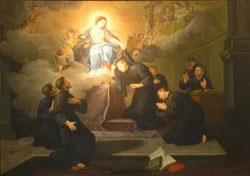 d. 1261, the eldest of the Seven Holy Founders of the Servants of Mary, and the first superior of the Servite Order.
He was one of seven Florentines who had joined the Confraternity of the Blessed Virgin (the Laudesi) in a particularly lax period in the city's history and who were inspired by a vision on the feast of the Assumption to take up a life of solitude and prayer. After nearly fifteen years of austerity at a hermitage on Monte Senario he took the name in 1240 of Servants of Mary, or Servites. Six were ordained, developed as mendicant friars under the direction of James of Poggibonsi and Bishop Ardingo of Florence and established many houses and foreign missions. Br. Buonfiglio served as its first prikor general from 1240 to 1256 and died on Jan 1. St. John Buonagiunta succeded him, St. Bartholomew Amidei (Br. Hugh) established the order in Paris and St. Ricovero Ugoccione (Br. Sostenesw) in Germany. SS. Benedict dell'Antella (Br. Manettus) were ordained; St. Alexis Falconieri became a lay brother and was the only one to live to see the order approved by Pope Benedict XI in 1304. The "Seven Holy Founders" of the Servites were canonized in 1887 by Pope Leo XIII.
Prayer...
Father in heaven,
May the life of
Saint Buonfiglio Monaldo help us
understand that we will
never be alone since
you are always with us.
We ask this through Christ
our Lord. Amen.