October 19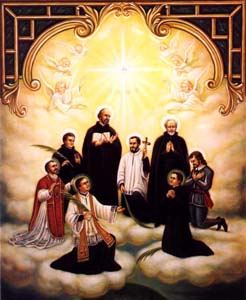 The North American Martyrs, also known as the Canadian Martyrs or the Martyrs of New France, were eight Jesuit missionaries from Sainte-Marie among the Hurons, who were brutally tortured and martyred in the mid-17th century in Canada, in what are now southern Ontario and upstate New York, during the warfare between the Iroquois and the Huron.
The Martyrs are St. Jean de Brebeuf (1649), St. Noel Chabanel (1649), St. Antoine Daniel (1648), St. Charles Garnier (1649), St. Rene Goupil (1642), St. Isaac Jogues (1646), St. Jean de Lalande (1646), and St. Gabriel Lalemant (1649).
By the late 1640s the Jesuits appeared to have been making more progress in their mission to the Huron, and they claimed to have made many converts at this time. Nevertheless, within Huron communities, the priests were not universally trusted. Many Hurons considered them to be malevolent shamans who brought death and disease wherever they traveled. Their arrival had coincided with epidemics after 1634 of smallpox and other infectious diseases, to which aboriginal peoples had no immunity. (Epidemiological studies have shown the diseases were likely carried by the increased number of children immigrating after 1634 with families from cities in nations where smallpox was endemic, such as France, England and the Netherlands). The Iroquois considered the Jesuits legitimate targets, as the missionaries were nominally allies of the Huron. They had often helped organize resistance to Iroquois invasions.
Prayer...
Holy Martyrs and patrons, protect this land which you have blessed by the shedding of your blood. Renew in these days our Catholic faith which you helped to establish in this new land. Bring all our fellow citizens to a knowledge and love of the truth. Make us zealous in the profession of our faith so that we may continue and perfect the work which you have begun with so much labor and suffering. Pray for our homes, our schools, our missions, for vocations, for the conversion of sinners, the return of those who have wandered from the fold, and the perseverance of all the Faithful. And foster a deeper and increasing unity among all Christians. Amen. - Jesuit novena prayer to the martyrs